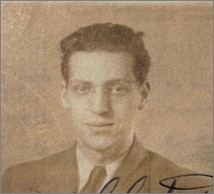 Biography
k-Costanzo, Frank Carl (Constanzo; Castanzo); b. January 19, 1912, Pittsburgh, Pennsylvania; Italian American; Father Pasqualio (Pasquale) Costanzo (1876-1942), mother Antonia Malsia (1876-1945); Married; Waiter; CP 1932; Received Passport# 465468 on July 26, 1937 which listed his address as 231 Moore Avenue, Knoxville, Tennessee; Sailed August 11, 1937 aboard the Queen Mary; Arrived in Cherbourg, France on August 16, 1937; Arrived in Spain via Espolla on August 21, 1937; Served with the XV BDE, Lincoln-Washington BN; Rank Soldado; Killed in action March 10, 1938 during the Retreats; Ancestry trees indicated he was married to Ida Sutton (1904-1996) circa 1932, son Stanley Clyde Costanzo (1932-2004).
---
Siblings: brother Francesco Costanzo (1906-1908); sisters Rose Costanzo (1908-1971), Pauline Jane Costanzo Lagattuta Raad (1909-1966), Lucia Filomena "Minnie" Costanzo (1913-1998), Jennie Costanzo (1917-1934).
---
Source: Scope of Soviet Activity; BN 58 Retreats; Cadre; Figueres List; XV BDE; RGASPI Fond 545, Opis 6, Delo 545, ll. 65 (fiche); ALBA 195 Frank C. Constanzo Papers; L-W Tree Ancestry.
---
Biography Frank Carl Costanzo (1912-1937?) was a waiter and union member from Pittsburgh, Pennsylvania. In early 1937, at 25 years old, Costanzo went to Spain to join the International Brigades, supporting the Loyalist cause in the Spanish Civil War. He hid the information that he had joined the war effort from his parents. After attending officers' training school, where he studied Spanish and military skills, Costanzo joined the staff of the Abraham Lincoln Battalion, and went with them into heavy action, fighting on at least four fronts. After spending time in a hospital with a sprained ankle, he returned to the front. Constanzo died in Spain in December 1937 or early 1938. He left behind a wife, Ida S. Costanzo and a son, Stan.- Courtesy of Tamiment Library, NYU.
---
Photograph: Frank Carl Costanzo, Passport Photograph, 1937.