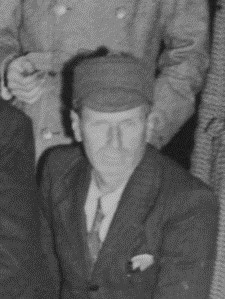 Biography
Ferrero, Frank Louis b. July 29, 1886, Italy; To the US August 20, 1883; Naturalized at District Court on January 19, 1914; Italian American; Laborer; CP; Received Passport# 424352 on May 25, 1937 which listed his address as 6111 24th Avenue, Kenosha, Wisconsin; Sailed June 23, 1937 aboard the Queen Mary; Arrived in Spain via Massanet on July 6, 1937; Served with the XV BDE, 24/59th (Spanish) BN, Returned to the US on December 15, 1938 aboard the Paris; WWII civilian; d. July 1966, Kenosha, Wisconsin, buried in Saint George Cemetery, Kenosha, Wisconsin.
---
Sources:  Sail; Scope of Soviet Activity; Cadre; Figueres List; RGASPI; L-W Tree Ancestry, Find-a-Grave #112340821.
---
Photograph: Frank Ferrero Detail from a group photograph taken aboard the Paris; December 1938.