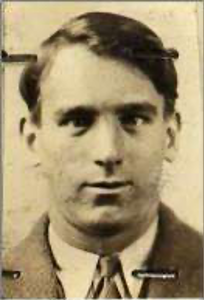 Biography
Madigan, Frank
. b. December 7 (6), 1911, Quincy (Boston), Massachusetts; Father Timothy James Madigan (1873-1939), mother Bridget McGuire (1872-1968); No prior military training; 8 years formal schooling; Single; Seaman (SUP); CP November 1936 (1937), SUP, ISU 1935; Travelled on a seaman's certificate, Domicile 102 Hamilton Avenue, Quincy, Massachusetts; Arrived in Spain via Setcases on July 11, 1937; Served with the XV BDE, English BN, Co. 1; Served at Quinto, Belchite, and Fuentes de Ebro; Attended OTS November 1937; Stationed at Almansa; 4th Grupo, 35th Battery; Served at Teruel and Levante; Rank Cabo; Returned to the US on February 4, 1939 aboard the
President Harding
; d. April 11, 1986, San Francisco, California; Cremated by Neptune Society and ashes were scattered at sea.
---
Siblings:
brother Timothy J. Madigan, sisters Beatrice Ward and Eileen Matson.
---
Sources:
Scope of Soviet Activity; Cadre; Figueres List; RGASPI Fond 545, Opis 6, Delo 939, ll. 41-48; USSDA 2:0742, 57:0264; Harriman; L-W Tree Ancestry. Code A
---
Photographs:
Frank Madigan, 1930 Application for a Seaman's Certificate of American Citizenship, L-W Tree Ancestry; and British Battalion, F. Doysle, Company 3, Political Commissar and Frank Madigan [?], Company 3 Commander, October 1937. The 15th International Brigade Photographic Unit Photograph Collection; ALBA Photo 11; ALBA Photo number 11-1794. Tamiment Library/Robert F. Wagner Labor Archives. Elmer Holmes Bobst Library, 70 Washington Square South, New York, NY 10012, New York University Libraries.
---