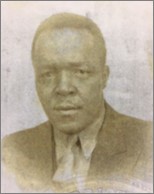 Biography
Warfield, Frank
("Francisco"), b. July 28, 1901, Charleston, Missouri; African American; Father Clay Warfield (1869-1917), mother Lulu D. Warfield (1879-?); Married, but separated, Mabel Lee Smith (1911-1982), daughters Delaris Warfield (1929-2001), Pearlie Viola Warfield (1930-2017) and Mattie J. Warfield (Martin) (1932-1996); Shoemaker; CP 1928, agitation and propaganda; Received Passport# 382127 on April 1, 1937 which listed his address as 3721 Cook Avenue, St. Louis, Missouri and Ohio (2937 Eastern Avenue, St. Louis, Missouri); Sailed May 8, 1937 aboard the
American Importer
; Arrived in Spain via Massanet on May 31, 1937; After attending OTS he served with the XV BDE, Mackenzie-Papineau BN (?); Returned to the US on August 13, 1938 aboard the
President Roosevelt
; He arrived in the ships infirmary suffering from Tuberculosis; He was taken directly to the Bellevue Hospital and later transferred to the Willard Parker Hospital where he later died; d. December 21, 1938, NYC.
---
Siblings: 
brother Fred A. Warfield (1896-?), Oliver Warfield (1907-?), sister Ethel E. Warfield (1899-?), half siblings Cleo Warfield (1911-?), and Mabel Ines Warfield-Taylor (1918-1996).
---
Sources:
Sail; Scope of Soviet Activity; Cadre; Figueres List; RGASPI Fond 545, Opis 6, Delo 1009, ll. 9-11 (includes a letter requesting repatriation for illness); African Americans; L-W Tree Ancestry. Code A
---
Biography: 
Frank Warfield was born in St. Louis in 1901. A shoe worker by trade, Warfield joined the Communist Party in 1928 and served as an organizer in the Sharecropper Union in Arkansas. Warfield departed for Europe, on the
American Importer
, on May 8, 1937. Warfield was assigned to the Lincoln-Washington battalion. While attending officers' training school he was hospitalized for tuberculosis. In the summer of 1938, he was evacuated to a hospital in Paris before being repatriated aboard the
President Roosevelt
in August 1938. Upon arrival, he was transferred to Bellevue Hospital and later to the Willard Parker Hospital where he died on December 21, 1938. ~ Chris Brooks
---
Photograph:
Frank Warfield, Passport Photograph 1937.