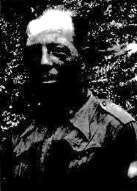 Biography
Ziedman, Frank b. December 25, 1884 (1894), Davyd-Haradok (Hordlak), Minsk, Russia, to the US June 25, 1911 aboard the SS Celtic; Russian American; Jewish; Father Ike Ziedman, mother Ida Ziedman; WWI veteran, served in the Royal Fusiliers, Rank Private, in the British Expeditionary Force in Palestine under the name Zidman; 2 years night school; Divorced; Carpenter and Driver (was working for the WPA); CP of Canada 1929, AFL, IWO; Received Passport# 366964 on February 12, 1937 which listed his address as 50 Chester Avenue, Chelsea, Massachusetts; Sailed February 20, 1937 aboard the Ile de France; Arrived in Spain on March 16, 1937 over Pyrenees; Served in Intendencia until May 25, 1937, then to XV BDE, Washington BN, Co. 3, Section 1; Served at Brunete; WIA July 15, 1937, hit while on the road with the food truck, hit by shrapnel in left side; Front hospital 6 days, Madrid hospital 10 days, Villa Pas 4 days, Murcia 4 weeks; Service Sanitaire at Benicasim and Segaro; XV BDE, Lincoln-Washington BN; September 19, 1937 attached to Service Sanitaire at Villa Paz Hospial; April 27, 1938 with S'agaro; Returned to the US on December 20, 1938 aboard the Ausonia; Married Bella Goldberg (1904-1967) on July 4, 1941 in Chelsea, Massachusetts; d. November 5, 1975, Chelsea, Massachusetts, buried in Everett, Massachusetts; Spoke Russian, Yiddish, German, Polish, Spanish, and English.
---
Sibling: Sister in the USSR.
---
Source: Sail, Scope of Soviet Activity, Washington; RGASPI Fond 545, Opis 6, Delo 1018, ll. 66; Opis 6, Delo 1019, ll. 2-11; British Jewry Book of Honor p. 317; L-W Ancestry, Find-a-Grave #144820003.
---
Photograph: Frank Ziedman in Spain, RGASPI Fond 545, Opis 6, Delo 1019;