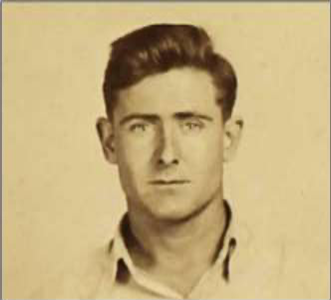 Biography
Stanley, Freddie Owen. ("Tex"); b. December 15, 1915, Oden, Texas; POW; Father Samuel Perry Stanley (1875-1952), mother Donie Pearl (Lester) Stanley (1884-1956); Single; Seaman; CP 1934 and YCL 1934; Received Passport# 479800 on October 8, 1937 which listed his address as 1525 Alice Ann Street, Baltimore, Maryland, and NYC (Odem, Texas); Sailed October 20, 1937 aboard the Queen Mary; Arrived in Spain via Massanet on October 31, 1937; Served with the XV Brigade, Lincoln-Washington Battalion, Co. 3; Rank Cabo; Reported MIA Retreats; Captured XXX; Exchanged April 22, 1939; Returned to the US on May 6, 1939 aboard the President Harding; WWII Merchant Marine, Officer with an Engineer's license; d. April 30, 1996, buried Evergreen Cemetery, Odem, San Patricio County, Texas.
---
Siblings: brothers Samuel Loyd Stanley (1907-1933), Cullen Lee Stanley (1913-1979), and William Gilbert "Billie" Stanley (1923-1998); sisters Tennie Leona (Stanley)(Smith) Johnson (1905-1977), Martha Ivy (Stanley) Gerhard (1906-1947); Robbie Holland (Stanley) Curtis (1909-1988); Frankie Myrtis (Stanley) Hageman (1911-1985), Connie E. Stanley Puelo (1914-2001), Ina Gay Stanley (1919-1992), Ruby Lee Stanley (1924- 2003), and Delta Joyce (Stanley) Curtis (1926-2005).
---
Sources: Sail; Scope of Soviet Activity; Battalion 58 Retreats; Cadre; Figueres List; Good Fight A; L-W Tree Ancestry; Find-a-Grave #178665814.
---
Photograph: Fred Stanley from his 1936 Application for Seaman's Protection Certificate, L-W Tree Ancestry.