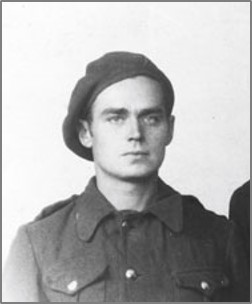 Biography
Palmer, Frederick Aaron
. ("Fritz"); b. May 7, 1907 (1909), Madison, Wisconsin; Family of Swedish heritage; Father Aaron Gideon Palmer, mother Emma Elizabeth Marks Palmer, Married; Radio Salesman; Received Passport# 365957 on February 6, 1937 which listed his address as 116 South Henry Street, and 620 South Ingersol Street, both Madison, Wisconsin; Sailed February 17, 1937 aboard the
President Roosevelt
; Arrived in Spain on March 3, 1937; Served with the Auto Park (April 1937), as a radio operator; Returned to the US on November 16, 1937 aboard the
Laconia
; WWII, possibly military; Worked as a communications engineer until his death; d. March 30, 1958, Eugene, Oregon, buried in Forest Hill Cemetery, Madison, Wisconsin, unmarked grave.
---
Siblings:
sister Isabelle Marian Palmer Black, brother William Marks Palmer.
---
Sources:
Sail; Scope of Soviet Activity; Repatriation List (10/30/1937, ll. 24); L-W Tree Ancestry; Find-a-Grave# 86625642. Code A
---
Photographs:
Wisconsin volunteers Fred Palmer, John Cookson, and Clarence Kailin. Photograph Clarence Kailin; and undated, L-W Tree Ancestry.
---