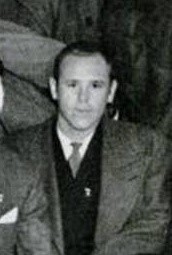 Biography
Stix, Frederick
. b. November 3, 1914, Suring, Wisconsin; POW; Father Charles Stix (1882-), mother Francis Stix (1884-); Circus roustabout; Received Passport# 488431 on December 8, 1937 which listed his address as Suring, Wisconsin; Sailed December 11, 1937 aboard the
Vollendam
; Arrived in Spain via Massanet on January 12, 1938; Served with the XV Brigade, Lincoln-Washington Battalion; Rank Soldado; Reported MIA Retreats March 10, 1938; Captured; Exchanged October 8, 1939; Returned to the US on October 18, 1938 aboard the
Queen Mary
; WWII US Army; POW, ETO, Served in the Korean War, Rank SGT; d. April 8, 2006, Suring, Oconto, Wisconsin; Stix donated his body to science.
---
Sources:
Sail; Scope of Soviet Activity; Battalion 58 Retreats; Figueres List; (obituary) Green Bay Press, April 12, 2006, Greenbay Wisconsin; L-W Tree Ancestry; Find-a-Grave #146425179.
---
Photographs:
Fred Stix from a photograph of returning POWs aboard the
Queen Mary
, October 8, 1938; and in WW II from his obituary.
---