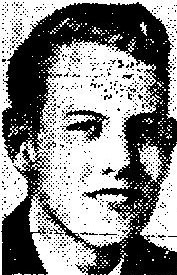 Biography
k-Cromwell, Frederick William Jr. b. July 6, 1911, Chevy Chase, Maryland; Father Frederick William Cromwell, Sr. (1886-?), mother Roselia (Rose) Sothoron (King) Cromwell (1886-1959); Attended Western High School; Single; Photographer and Worked for Dollar Steamship Lines as a Seaman; Received Passport# 33960, San Francisco series, on January 10, 1938 which listed his address as 1370 East 32nd Street, Oakland, California; Sailed January 19, 1938 aboard the President Roosevelt; Arrived in Spain via Espolla on January 31, 1938; Served with the XV BDE, Lincoln-Washington BN; Rank Soldado; Killed in action April 3, 1938, Gandesa, during the Retreats.
---
Sibling: Margaret H. Cromwell (1913-?).
---
Source: Scope of Soviet Activity; BN 58 Retreats; Figueres List; RGASPI; USSDA 2:0476, 53:0500. Code A
---
Photograph: Frederick Cromwell. Photograph from clipping the Washington Post, January 19, 1939.