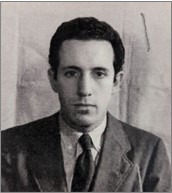 Biography
Quinones, Gabriel (Jack Gabriel Quinones); b. April 30, 1910, NYC; Father Lawrence Joseph Quinones, Sr. (1874-1947), mother Louisa Koch (1880-?); Single; Photographer and Driver; YCL 1936 or June 1937, Spanish CP; Received Passport# 367853 on February 17, 1937 which listed his address as 977 Intervale Avenue, Bronx, New York; Sailed February 20, 1937 aboard the Ile de France; Arrived in Spain on March 7 (15), 1937; Served with the Regiment de Tren, Driver; Transferred to American Hospital at Tarancon September 5, 1937, later to Villa Paz; Worked with the AMB hospital #1 in Aragon as a handyman and driver; Served at Brunete and Aragon (Belchite); WIA March 14, 1938, hit during a bombing of the hospital tent he was working in, Helen Freeman was wounded in the same attack; Returned to the US on July 20, 1938 aboard the Champlain; Married Dorthy Rose Baskin (1915-1997) after the war on February 8, 1939 in New York; d. October 14, 1992, Long Beach, California.
---
Siblings: brothers Lawrence, Jr. (1900-?), Walter A. (1904-1969), sister Carmen M. (1913-2013).
---
Sources: Sail; Scope of Soviet Activity; Cadre; RGASPI Fond 545, Opis 6, Delo 966, ll. 25-31, (includes a series of letters requesting repatriation); Good Fight C; Landis Audio Taft Segment #4; L-W Tree Ancestry. Code A
---
Photograph: Gabriel Jack Quinones, from a group photograph aboard the returning Champlain.