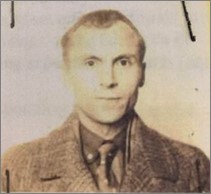 Biography
k- 
b. November 15, 1897, Velika Pisanica, Croatia; To the US August 1913; Naturalized June 29, 1920, Supreme court of New York; Croatian American; US Army WWI AEF 1917-1919; May have attended Columbia University after his return; Lived in France from August 1921 to September 1923 then Yugoslavia from September 1923 to August 1925; Married (common law wife Sylvia Boehm who later married veteran Leon Acker); Restaurant Owner; CP 1934 (1927), party unit organizer and secretary or editor for the
Daily Worker;
Received Passport# 366482 on February 10, 1937 which listed his address as 1292 Amsterdam Avenue, NYC; Sailed February 20, 1937 aboard the
Ile de France
; Worked in the Paris apparatus for several months; Arrived in Spain on April 2, 1937 (March 25, 1937); Served with the XV BDE, Mackenzie-Papineau Battalion; Possibly worked in translation after Teruel before returning to the front prior to the Retreats; Commissar; Killed in action July 20, 1938, Villalba, Ebro Offensive.
---
Source:
Scope of Soviet Activity; Cadre; Americans; XV BDE; RGASPI Fond 545, Opis 6, Delo 863, USSDA 2:0417, 52:0968; ALBA 202 Sylvia Boehm Acker Papers; Harriman; South Slav;
Spisak, in Spanija,
5 : 512; Ancestry L-W Tree.
---
Biography
George Boehm was born in Velika Pisanica, Croatia on November 5, 1897. He sailed to Europe from New York City to volunteer in the International Brigades in Spain in February 1937. An artist, Spanish teacher, and interpreter, Boehm was killed during the Battle of the Ebro in July or August 1938. Boehm's wife, Sylvia Diner Boehm, participated in fundraising and support work for the International Brigade's volunteers in New York City. After George Boehm's death, Sylvia married another Spanish Civil War veteran, Leon Acker, who had served with the Jewish battalion of the Dombrowski Brigade of Polish volunteers. - Courtesy of Tamiment Library, NYU.
---
Sylvia Acker on George Boehm and Leon Acker
, ALBA V 48-002 (Mixed Materials), & ALBA 48-003, July 23, 1985; Manny Harriman Video Oral History Collection; ALBA VIDEO 048; box number 1; folder number 23; Tamiment Library/Robert F. Wagner Labor Archives, New York University.
---
Photograph:
George Boehm, Passport Photograph.