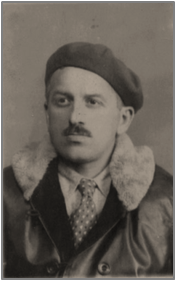 Biography
Brodsky, George b. April 15, 1901; Jewish; No prior military service; Printer and Artist; CP 1932; Sailed February 11, 1937 aboard the Washington; Arrived in Spain on February 24, 1937; Served as the Commissar American Base, Albacete; Later with the XV BDE, Lincoln BN; Replaced Phil Bard at Albacete, considered ineffective; Apparently suffered psychological issues from involvement at Jarama; Returned to the US on October 16, 1937 aboard the De Grasse; d. November 8, 1999; Spoke English and Yiddish.
---
Source: Americans; RGASPI Fond 545, Opis 6, Delo 849, ll 19, List of American Comrades that have been Repatriated as per October 15 1937; ALBA 181 George Brodsky: Yiddish Clippings and Serials Collection; (obituary) The Volunteer, Volume 22, No. 1, Winter 2000, p. 19; Robert W. Snyder, "After Spain, 'Beyond Abstract Art,'" The Volunteer, Volume 25, No. 1, March 2008, pp. 5-6.
---
Biography: George Brodsky served as commissar for the Lincoln Battalion during the battle of Jarama. He always remembered his experience in Spain with great pride, and also with pain. The pride came from being associated with and contributing to the heroic struggle against fascism as part of the Abraham Lincoln Battalion in the International Brigades. The pain came from the defeat of the Spanish people at the hands of fascism. It also came from the horrors of that war. And it came from his own all-too-human limitations as he and his comrades faced an incredibly difficult situation in the earliest days of the Lincoln Battalion's experience. George had to be brought back to the U.S. long before the International Brigades were withdrawn from Spain, physically but not emotionally intact. Despite this, his efforts with the Lincoln Battalion to help defend Spanish democracy from fascism remained, for him, one of the most meaningful and valued aspects of his life. —Paul Le Blanc
---
Photograph: George Brodsky, ALBA/VALB.