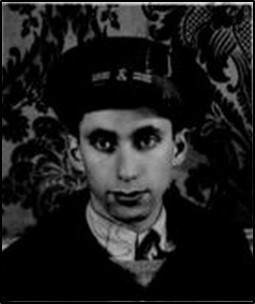 Biography
Chaiken, George
(Auvan, George); b. January 1, 1908, NYC; No prior military service; Graduated from Princeton University, BS; Single; Engineer and Mechanic; YCL 1930 and CP 1931(1930); Member of the Federal Architects, Engineers, Chemists, and Technicians Union; Received Passport# 367909 on February 18, 1937 which listed his address as 245 East 11th, NYC; Sailed March 10, 1937 aboard the
Washington
; Arrived in Spain on March 25, 1937; Served with XV BDE (?); WIA right shoulder; Returned to the US on February 4, 1938 aboard the
President Harding
; WWII Civilian, volunteered but was turned down due to SCW wounds; Member of the San Diego Chapter of the VALB; d. July 1992; Spoke English and French.
---
Source:
Scope of Soviet Activity; Cadre; Americans; RGASPI; ALBA 200 George Chaikin Papers; ; Sue Garson, "For Whom the Bell Tolled, San Diego Veterans of the Spanish Civil War,
San Diego Reader
, July 17, 1980. Code A
---
Biography
George Chaikin (whose Communist Party name was George Auvan) was born in 1908 and raised in New York City. While at Princeton University, he was active in a movement to integrate movie theaters in Trenton and Princeton, New Jersey. He graduated from Princeton University in 1931. A mechanical engineer, Chaikin worked for the Works Progress Administration and taught at the Harlem Workers School. Active in politics, Chaikin was National Financial Secretary of the Young Communist League. He participated in numerous strikes and demonstrations, and spent ten days in the Tombs prison in New York City, accused of attacking a policeman during a march. Chaikin sailed for Europe on the S.S. Washington, arriving in Spain in March 1937 to join the Abraham Lincoln Brigade. Chaikin applied his language facility (he spoke French, German, and Yiddish) and his engineering skills in the motor pools of the International and Spanish Brigades. He also worked for a medical unit. On his one visit to the front lines, Chaikin was wounded and partially crippled in the arm. While recovering in the hospital, he organized efforts to aid Spanish orphans. He left Spain when the International Brigades were evacuated from the country, sailing home on the S.S. Harding in late December 1938. Chaikin's Spanish Civil War injury prevented him from active duty in World War II. Instead he worked for the United States defense industry as an engineer. His political activism during the McCarthy era brought upon Chaikin unwanted attentions from the U.S. government, severely damaging his career. Chaikin and his wife, Elizabeth, had two sons, one of whom was mayor of Point Arena, California, and a daughter. Chaikin died in 1992. - Courtesy of Tamiment Library, NYU.
---
Photographs:
George Chaiken, L-W Tree Ancestry; For Whom the Bell Tolled.
---