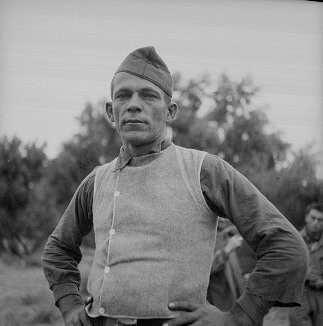 Biography
Delich, George (George Delic; G. B. Babich; Dicklich; Delitch; Georgius Deluch); b. February 15, 1898, Enerovecia, Yugoslavia (Staro Selo, Otacac, Croatia); Serbian American; POW; Prior military service in WWI with the Serbian Army, later US Army Reserve; Single; Mechanic; CP 1939 (1936); 39 years old; Sailed April 15, 1937, Berengaria; Arrived in Spain on May 5, 1937; Served with the XV BDE, Lincoln- Washington BN, first in action at Fuentes; Rank Sargento; Captured April 10, 1938 during the Retreats; Released April 22, 1939; Returned to the US on October 24, 1939 aboard the Washington; Detained at Ellis Island then deported from France; Finally allowed into the US, arriving on November 1, 1939 aboard the Washington; WWII OSS liaison to Yugoslavian partisans, rose to the rank of Colonel in the Partisan Army; d. 1946, executed by Tito on charges that he was an American spy.
---
Source: XV BDE, Cadre (under Delich, Jorge); USSDA; BN 58 Retreats; POW; South Slav; Spisak, in Spanija, 5 : 518; L-W Tree Ancestry.
---
Photograph: George Delich, Lincoln-Washington, Company 1, September 1937. The 15th International Brigade Photographic Unit Photograph Collection ; ALBA Photo 11; ALBA Photo number 11-0620. Tamiment Library/Robert F. Wagner Labor Archives. Elmer Holmes Bobst Library, 70 Washington Square South, New York, NY 10012, New York University Libraries.