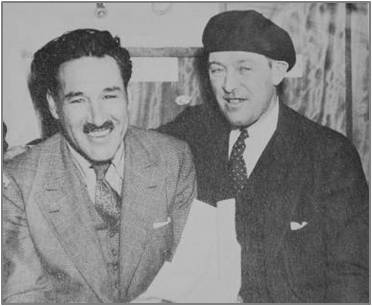 Biography
Berry, George F. (Berry, Gordon King); b. July 3, 1897 (1896), Whitinsville (Northbridge), Massachusetts; Father Frank Scotto Berry, mother Carrie D. Adams Berry; Pilot; No political affiliation; Received Passport# 6785, New York series, on November 11, 1936 which listed his address as 12 Sutton Road, Northbridge, Massachusetts; Served with the Republican Airforce; Pilot flying Potez 54 Bombers; Returned to the US on January 14, 1937 aboard the Paris; d. February 8, 1943, Bronx, New York, buried Pine Grove Cemetery, Northbridge, Worcester County, Massachusetts; Wife Jeanette D. Tiffany Berry, Child Jean Berry Youngue.
---
Source: Scope of Soviet Activity; John Carver Edwards, Airmen Without Portfolio, Westport, Connecticut: Praeger, 1997; L-W Tree Ancestry. Code A
---
Photograph: Bert Acosta and George Berry.