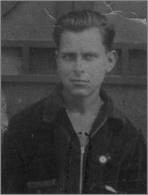 Biography
Kaye, George
b. November 26, 1917, NYC; Graduated from Fairfax High School, Attended Los Angeles Junior College for 2 years; ROTC; Single; Truck Driver and Clerk; Longshoreman and Warehouseman Union, TUUL, YCL 1934, CP January 1937, section organizer; Received Passport# 25281, San Francisco series, on March 6, 1937 which listed his address as 458 ½ North Genesce Street, and 7733 Oakland Avenue, both Los Angeles, California; Sailed March 24, 1937 aboard the
Manhattan
; Arrested and jailed with the Dallet group; Arrived in Spain on April 10, 1937; Stayed in Figueras until after the May Days, and went to Madrigueras and later transferred to Tarazona to form the 2
nd
Training BN; Sent as a replacement to the Lincoln-Washington BN after Brunete; Served with the XV BDE, Lincoln-Washington BN, Co. 3 last unit MG Co.; Served at Quinto, Belchite, Fuentes de Ebro, Segura de los Banos; Retreats, and Ebro Offensive; WIA in the thigh by a sniper in the church tower at Belchite, in hospital at Murcia and Benicassim; Returned prior to Fuentes de Ebro, Hospitalized for frostbite at Teruel, again at Benicassim returning to the Lincoln-Washington BN at the end of the Retreats arriving in Mora de Nueva on April 2
nd
as the bridge was being blown; WIA at Corbera by a bomb concussion on September 22, 1938; Rank Cabo; Ebro Offensive; Returned to the US on December 20, 1938 aboard the
Ausonia
; WWII US Army, 7
th
Cavalry, later served as an Advisor to the Greek Partisans, transferred to the PTO; d. June 10, 1990, Alameda, California.
---
Source:
Sail; Scope of Soviet Activity; Cadre; Mac-Paps; XV BDE; Pay; RGASPI; ALBA 048, #92,  Manny Harriman Video Collection, George Kaye Interview, August 23, 1985; L-W Tree Ancestry.  Code A
---
Biography:
George Kaye (1918?-1990), who joined the Young Communist League in 1933, was one of the youngest American volunteers in Spain. Bill Bailey "adopted" young Kaye into the seamen's machine-gun company, and Kaye, who had two years of college, served as editor for Bailey's dispatches from the war. Prior to embarking for Spain, Kaye, a native New Yorker, worked as a truck driver for a furniture company in Hollywood, California and was a member of the Teamsters union. Kaye's parents, Anna and Morris, were communist sympathizers. - Courtesy of Tamiment Library, NYU. The Marjorie Polon papers which include letters from George Kaye.
---
George Kaye Interview
, ALBA V 48-092, August 23, 1985, Manny Harriman Video Oral History Collection; ALBA VIDEO 048; box number 8; folder number 24; Tamiment Library/Robert F. Wagner Labor Archives, New York University.
---
Photographs:
George Kaye in Spain, RGASPI Fond 545, Opis 6, Delo 919; Fairfax High School Yearbook, L-W Tree Ancestry; George Kaye, L-W BN, December 1937. The 15th International Brigade Photographic Unit Photograph Collection; ALBA Photo 11; ALBA Photo number 11-0632. Tamiment Library/Robert F. Wagner Labor Archives. Elmer Holmes Bobst Library, 70 Washington Square South, New York, NY 10012, New York University Libraries.
---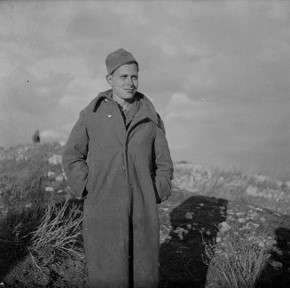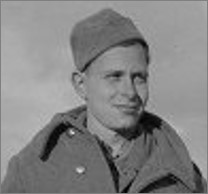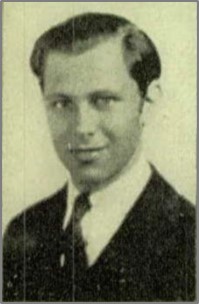 c