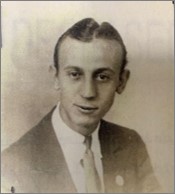 Biography
k-Vinovich, George Lawrence (Larry); b. July 4, 1912, Farmington, Illinois; Serbian American; Father Samuel Vinovich (?-1914), mother Martha Vinovich; Attended High School for 2 years; Married; Photographer, Laborer, and Seaman; YCL 1937; Received Passport# 27354, San Francisco series, on April 30, 1937 which listed his address as 3804 23rd Street, San Francisco, California; Sailed May 15, 1937 aboard the Georgic; Arrived in Havre, France on May 23, 1937; Arrived in Spain via Espolla on June 10, 1937; Served with the XV BDE, Mackenzie-Papineau BN and Lincoln-Washington BN; Rank Soldado; Reported MIA Retreats with note "al hosp. antes accion;" Reported Killed in action on April 1, 1938 Gandesa, during the Retreats.
---
Siblings: brothers Steve Vinovich, Louie Vinovich, and Mike Vinovich; sisters Mildred Vinovich, and Eva Vinovich.
---
Sources: Scope of Soviet Activity; Figueres List; Mac-Paps; BN 58 Retreats; RGASPI Fond 545, Opis 6, Delo 1006, ll. 51, ver arch gen amer; USSDA 2:1012, 61:0445. Code A
---
Photograph: George Lawrence Vinovich, Passport Photograph, 1937.