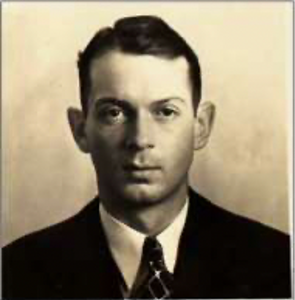 Biography
Lewis, George Murray. b. December 21, 1907, Boston, Massachusetts; Attended Harvard and did graduate work at the University of Chicago; ROTC at Harvard from 1926-28; Single; Seaman (NMU); CP December 1936 (1937); Received Passport# 408094 on May 8, 1937 which listed his address as 4 Gay Street, Newtonville, Massachusetts, and 41 Kiplin Road, Boston, Massachusetts; Sailed May 29, 1937 aboard the Britannic; Arrived in Spain via Massanet on June 14, 1937; Served with the Artillery, 11th Regt., 2nd Group, 14th Battery (John Brown Battery), 155mm Guns, Telephonist and Observer; Returned to the US on February 4, 1939 aboard the President Harding.
---
Sources: Sail; Scope of Soviet Activity; Cadre; RGASPI; L-W Tree Ancestry. Code A
---
Photographs:
George Lewis from his 1936 Application for Seaman's Protection Certificate; and the Newton High School yearbook, both L-W Tree Ancestry.
---