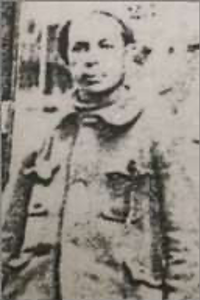 Biography
k-Pantaziz, George P. (Pantages; Pantazis, Georgios) b. Kythrea, Nicosia District, Cyprus; Cypriot Greek; Pankypriaki; Domicile NYC; Sailed February 20, 1937 aboard the Ile de France; Served with the XV BDE, Lincoln-Washington BN, MG Company (?); Served at Jarama, Brunete, and Aragon; Killed in action August 31, 1937, Aragon Front.
---
Sources: RGASPI. Americans and Canadians Killed in Spain Complete list to November 15, 1937; Cypriot.
---
Photograph: George Pantazis, in Spain, Greek Volunteers in Spain, Memorial Album, New York: Spartacus.