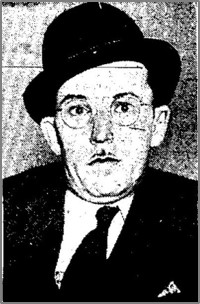 Biography
Lund, George Raymond. b. July 16, 1906, Minneapolis, Minnesota; Father Nels F. Lund (1871-?), mother Hilma Lund (1879-?); Married; Oil worker, Truck driver and Organizer; CP 1935; Received Passport# 463304 on July 20, 1937 which listed his address as 712 East 4th Street, Duluth, Minnesota (2417 E. Franklin, Avenue, Minneapolis, Minnesota); Sailed March 18, 1937 aboard the President Harding; Arrived in Spain via Massanet on August 31, 1937; Served with the XV BDE, Auto Park; XV BDE, Lincoln-Washington BN, Co. 2, Rank Cabo; Served at Huesca, Fuentes de Ebro, Teruel, and Ebro Offensive; Returned to the US on November 5, 1938 aboard the President Roosevelt; Was arrested on his return for abandonment of his wife and family; Married Edith Margaret Schultz (1908-1977) on November 30, 1939 in Cook County, Illinoins, daughter Katherine "Katie" Edith Lund (1941-2002); Married Margaret Lucile Lund (1920-2010) on August 8, 1969, children Dale Smith, Marsha Jones, William Smith, Corinne McDonald, and Dennis McDonald; d. May 13, 1980, Fredenberg Township, Fish Lake, Minnesota.
---
Sibling: sister Nestor Olafson.
---
Sources: Sail; Scope of Soviet Activity; Cadre; Figueres List; Pay; RGASPI; L-W Tree Ancestry; Find-a-Grave #154506839. Code A
---
Photograph: George Lund. Photograph from newspaper clipping.