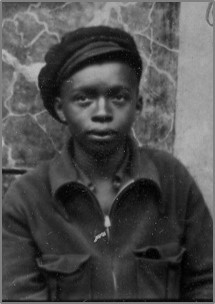 Biography
Waters, George Walter
b. August 13, 1918, Santiago, Cuba, to the US 1922 (Berkeley, California); Afro-Cuban; Father Jorge Walter Water, Mother Myrtle Allan; Two years college; 3 years ROTC in school, Oakland, California may have also served in the US Army; Married; Driver and Mechanic; YCL May 1936 (1937); Received Passport# 27638, San Francisco series, on May 7, 1937 which listed his address as 510 Cedar Street, San Francisco, California; Sailed May 15, 1937 aboard the
Georgic
; Arrived in Spain via Massanet on June 11, 1937; In training with the Mackenzie-Papineau BN; Later with the Medical Services 35th Division Ambulance Co.; Assistant and Driver for Dr. Klein; Returned to the US on December 31, 1938 aboard the
President Harding
.
---
Sources:
Sail; Scope of Soviet Activity; Cadre; Figueres List; RGASPI (also under Walters, George) Fond 545, Opis 6, delo 603; Opis 6, Delo 1009, ll. 32-33; L-W Tree Ancestry.
---
Biography: 
George Walter Waters was one of the youngest volunteers from the United States. Born on August 13, 1918 in Santiago, Cuba, Waters was a mechanic by trade. Waters joined the Young Communist League in 1936. On May 15, 1937, Waters boarded the
Georgic
heading for Europe. In Spain, Waters served as an ambulance driver attached to the 35th Division and later as personal driver and assistant to Dr. Klein, a dentist and member of the American Medical Bureau. Water's duties while working with Dr. Klein included riding the stationary bicycle that provided the power for the dental drill. Waters returned to the United States, aboard the
President Harding
, on December 31, 1938. ~ Chris Brooks
---
Photographs:
George Waters in Spain, RGASPI Fond 545, Opis 6, Delo 603; and Waters, February 1938. The 15th International Brigade Photographic Unit Photograph Collection; ALBA Photo 11; ALBA Photo number 11-0670. Tamiment Library/Robert F. Wagner Labor Archives. Elmer Holmes Bobst Library, 70 Washington Square South, New York, NY 10012, New York University Libraries.
---