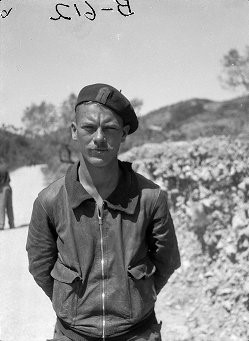 Biography
Cook, Gerald
(Jerry); b. April 30, 1916, St. Louis, Missouri; Self-educated; Married; Office Worker (Department Store Union), Journalist and Union Organizer; YCL 1934 and CP 1937; Sailed March 17, 1937 aboard the
President Roosevelt
; Arrived in Spain on May 23, 1937; Served with the XV BDE, Washington BN, Co. 1, Section 2 and Lincoln-Washington BN, Co. 3; With the company when it was over run at the Ebro; Last unit Lincoln-Washington BN, Plaza Mayor; Rank Soldado; Returned to the US on December 20, 1938 aboard the
Ausonia
; WWII US Army, ETO; Rank 1st Lieutenant; d. October 30, 1979, Manhattan, New York; Buried in Arlington National Cemetery, Arlington, Virginia; Wife Joan R. Cook.
---
Source:
Cadre; Pay; Washington; RGASPI Fond 545, Opis 6, Delo 441, ll. 4 (Assessment by Clement Markert Ripoll); ALBA 031 Gerald Cook Papers; (obituary) "Gerald Cook, 63, Editor on Staff of Hospital's Union's Publication," New York Times, date; L-W Tree Ancestry; Find-a-Grave#34236708. Code A
---
Biography
Gerald Cook was born in St. Louis, Missouri on April 30, 1916 to Catherine and James Cook. He was self educated, never having graduated from high school. As a young man, he moved to New York City and was active in organizing unions, specifically the Department Store Workers union. While on a picket line, he met his first wife, Anne Freedman. They married before he left for Spain to fight in the Abraham Lincoln Brigade. When he returned from Spain, he shipped out to fight the fascists in WWII. He served both on the European front and in the Pacific front. After the war, his first child, Catherine Anne Cook, was born in 1947. A few years later Gerald and Anne divorced and Gerald married Joan Riddell Barlow, a journalist. They remained married until Jerry died in 1980. They had two children, Joseph Fitzgerald Cook (b. 1952) and Jezebel Cook (b. 1959). He also raised a step-son, John Barlow (b. 1946). Jerry is survived by his two daughters, his step-son and four grandchildren, Alexandra Barlow, Thomas Barlow, James Barlow and Caleb Cook. For most of his post-soldier life, Jerry was a journalist, working on various publications. He also worked for local 1199, editing their newsletter. He also worked for the
Daily World
. He never stopped being an activist and fought all his life for peace and justice. He died firmly believing in his Marxist principles of dialectical materialism. - Courtesy of Tamiment Library, NYU.
---
Photographs:
Sergeant Gerald Cook, Lincoln-Washington, May 1938. The 15th International Brigade Photographic Unit Photograph Collection; ALBA Photo 11; ALBA Photo number 11-0223. Tamiment Library/Robert F. Wagner Labor Archives. Elmer Holmes Bobst Library, 70 Washington Square South, New York, NY 10012, New York University Libraries; and RGASPI Fond 545, Opis 6, Delo 875.
---