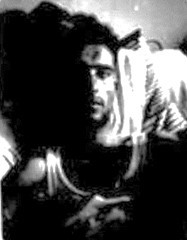 Biography
Therianos, Gerogos. (ΘΕΡΙΑΝΟΣ, ΓΙΩΡΓΟΣ; George Theriani); b. June 1917, Samos, Greece; Greek American; Father Aeritas Theianos, Mother Despina Therianos; Spent 8 months in an Argentine prison; Seaman; CP of Greece 1933-37 and CP USA 1937; Arrived in Spain on February 25, 1938; Served with the XV BDE, Lincoln-Washington BN; Rank Soldado; Reported MIA Retreats; Paleologopoulos and Tsermegas note that Therianos drowned in the English Channel after leaving Spain.
---
Sources: BN 58 Retreats; RGASPI Fond 545, Opis 6 , Delo 421, ll. 3-8; D. Paleologopoulos Greek Antifascist Volunteers in the Spanish Civil War (1936-39), Athens 1986; Steve Tsermegas and L. Tsirmirakes, No Pasaran. Greek Antifascist Volunteers in Spain, Athens 1987.
---
Photograph: George Therianos, Fond 545, Opis 6 , Delo 421.