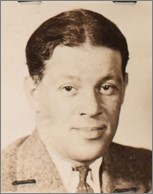 Biography
Calcagno, Goiachino Victor (Giacomino Giachino, Victor C.); b. October 22, 1902, NYC, New York; Italian American; Father Victor Calcagno (1871-?), mother Lillian Calcagno (1884-?); Attended Columbia University Pharmacy College; Prior military service in the US Navy, 4 years; Single; Doctor and Seaman; Anti-fascist/No political affiliation; Received Passport# 414845 on May 17, 1937 which listed his address as 235 Alexander Avenue, Bronx, New York; Sailed May 29, 1937 aboard the Britannic; Arrived in Spain via Massanet on June 14, 1937; Served with the XV BDE, Mackenzie-Papineau BN; BDE Service Sanitaire; Returned to the US on March 3, 1939 aboard the Manhattan; d. June 18, 1944, Bronx, New York.
---
Siblings: brother Caesar Calcagno (1913-?), sisters Minnie Calcagno (1900-?), Theresa Calcagno (1907-?), Ruzy Calcagno (1909-?).
---
Source: Sail; Scope of Soviet Activity; Figueres List (under Giaochino, Calcagno); Mac-Paps; XV BDE, RGASPI; PS, Italian; L-W Tree Ancestry. Code A
---
Photograph: Goichino Victor Calcagno, Seaman's Certificate of Identity, 1936, L-W Tree Ancestry.