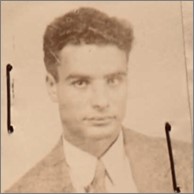 Biography
Greenspan, Maurie , (George Marion) b. June 20, 1905, St. Louis, Missouri; Father Albert J. Greenspan (1880-1915), mother Mary Borman(1880-1956); Married veteran Celia Posen Seborer (1907-2005) on October 4, 1934, daughter Robin Greenspan (1939-?); Journalist; Worked in the Cadres Office Summer 1937, released to work as a journalist; Married Elizabeth "Betty" Jane Craney (1917-2000) on August 13, 1951; d. November 2, 1955. The Greenspan family lived in Belleville, Illinois after immigrating from Berdichev, Ukraine. George Marion Pen Name.
---
Siblings: brothers William Greenspan (1902-1918), Baby boy Greenspan [twin] (1903-1903), sisters Claire (Clara) Greenspan (1906-2000), Baby girl Greenspan [twin] (1903-1903).
---
Source: L-W Tree Ancestry.
---
Photograph: Marion George Greenspan, Seaman's Protection Certificate, 1927.