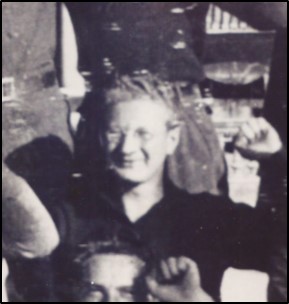 Biography
Sperber, Gustave H. (Rotte, John); b. April 10, 1908, NYC; Jewish; Father Louis Sperber (1880-?), mother Emma Klinger (1881-?); Single; Attended CCNY; Electrician, bookseller for the CP, and Dental Mechanic; CP 1935; Received Passport# 365130 on February 3, 1937 which listed his address as 2704 West 16th Street, Brooklyn, New York; Arrived in Spain on February 24, 1937; Served with the 86th Brigade, 20th Battalion; Auto Park; Returned to the US on April 5, 1938 aboard the Paris; d. January 10, 2000, Saint Paul, Ramsey, Minnesota.
---
Siblings: brothers Isaac Sperber (1907-?), Dave Sperber (1910-?), and Samuel Sperber (1925-?).
---
Sources: Scope of Soviet Activity; Cadre (note listed under both Sperber and Rotte), RGASPI (under Rotte, George), L-W Tree Ancestry.
---
Photographs:
Gustave Sperber CCNY 1933 Yearbook, L-W Tree Ancestry; and a detail from a group photo of Coney Island volunteers in the Albacete Auto Park.
---