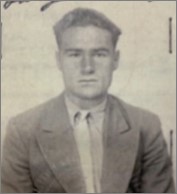 Biography
k-Crain, Harry Allen b. January 28, 1910, Jacksonville, Illinois; Father William Crain (1873-1931), mother Ariga "Nettie" Graham (1867-1925); Machinist; Received Passport# 33351, San Francisco series, on January 25, 1938 which listed his address as 1501 Firestone Boulevard, Los Angeles, California; Passport records indicate he arrived in Havre aboard the Champlain on February 11, 1938; Arrived in Spain via Agullana on February 16, 1938; Served with the XV BDE, Lincoln-Washington BN; Killed in action April 1, 1938, Gandesa, during the Retreats.
---
Siblings: brother William "Billie" Crain (1907-?); step-sister Eliza Jane "Lida" Stringham (Todd) (1885-1939), step-brothers Lee Stringham (1889-1940), and Elbert Earl Stringham (1894-1945).
---
Source: Scope of Soviet Activity; BN 58 Retreats; Figueres List; USSDA 2:0473.
---
Photograph: Harry Allen Crain, Passport Photograph, 1937.