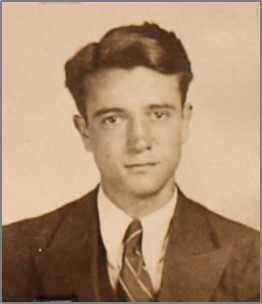 Biography
Fisher, Harry
b. March 12, 1911, Brooklyn, New York; Jewish; Graduated from High School of Commerce and later attended Commonwealth College in 1932; Single; Department Store employee member Department Store Employee's Union; Seaman, Bus boy, and Farm worker; YCL 1932 (1933) and Spanish CP; Received Passport# 366745 on February 11, 1937 which listed his address as 592 Greene Avenue, Brooklyn, New York; Sailed February 20, 1937 aboard the
Ile de France
; Arrived in Spain on March 7, 1937; Served with the XV BDE, Lincoln BN; Co. 1, Runner; BDE Transmisiones; After Belchite he was scheduled for repatriation but ended up working in Albacete with John Murra; Rejoined BDE; Last unit Lincoln-Washington BN, Plaza Mayor; Served from Jarama through Ebro Offensive; Returned to the US on September 21, 1938 aboard the
Ile de France
; WWII US Army Air Corps, bomber turret gunner, France, Belgium, Germany,  Rank SGT;  d. March 22, 2003, NYC.
---
Sources:
Sail; Scope of Soviet Activity; Cadre; Lincoln; Pay; Repatriation List (under Harry Field, 11/29/1937, ll. 29); RGASPI; ALBA 39 Harry Fisher Papers; ALBA 221 Harry Fisher: WWII Letters; Good Fight C; (obituary) Fraser Ottanelli, "Harry Fisher, 1911-2003,"
The Volunteer
, Vol. 25, no. 2, June 2003, p. 16; Fisher, Harry,
Comrades
.   Code A
---
Obituary:
"Harry Fisher, 1911-2003,"After a childhood in the Hebrew National Orphan Home and a youth spent as a labor activist and merchant marine, Harry Fisher volunteered to fight fascism in Spain as a member of the Abraham Lincoln Brigade. He later served as a B-26 bomber turret gunner in WWII. Married to Ruth Goldstein in 1939, they worked together for nearly 50 years at the Soviet News Agency, TASS, he in telecommunications, she as a research librarian and office manager. They shared an office, a daily walk to work, and a passion for life. They dedicated their lives to each other, their children and grandchildren, and to making the world a better place. Ruth died in 1993 after convincing Harry to write a book about his extraordinary experiences in the Spanish Civil War and helping get the project started. Published in 1998, his memoir Comrades led to speaking tours in the U.S., as well as Spain and Germany in response to great interest prompted by Spanish and German editions of the book. Just a week before his death, Harry finished the manuscript for his second book, Legacy. Negotiations are under way for the U.S. edition. He is survived by his son and daughter and their families, including three grandchildren, and a still-growing number of fellow activists and loving comrades. After collapsing at the antiwar demonstration Saturday, he was taken to St. Vincent's Hospital, where he briefly regained consciousness and recalled being in the same hospital 70 years earlier to receive stitches after being beaten by police on a union picket line. Harry was truly an inspiration to everyone he met. He will be sorely missed by his family and the incredible number of people he touched in his short 92 years. Harry Fisher, 92, soldier, pacifist, writer, and lifelong activist, died Saturday, March 22, 2003 after participating in an antiwar demonstration in New York City.- Submitted by Fraser Ottanelli
---
Photographs:
Harry Fisher Passport Photograph; Pat Read and Fisher, The 15th International Brigade Photographic Unit Photograph Collection ; ALBA Photo11; ALBA Photo number 110727. Tamiment Library/Robert F. Wagner Labor Archives. Elmer Holmes Bobst Library, 70 Washington Square South, New York, NY 10012, New York University Libraries; Fisher on a tour in Germany for his book
Comrades,
at an anti-war demonstration; and on a visit to Spain.; Harry Fisher, April 26, 1997, by Richard Bermack.
---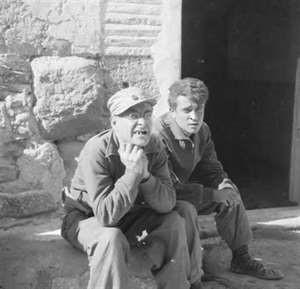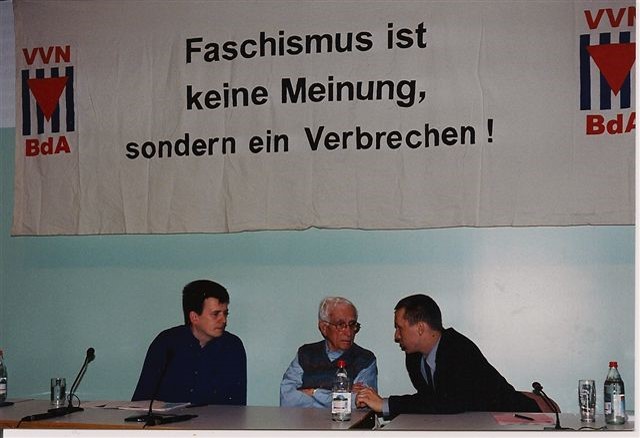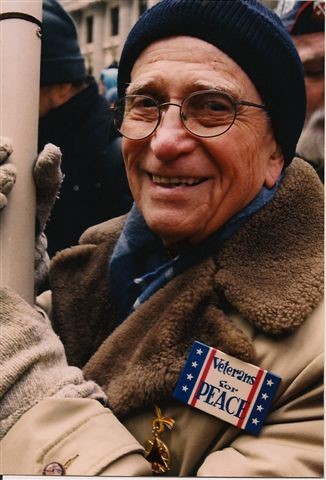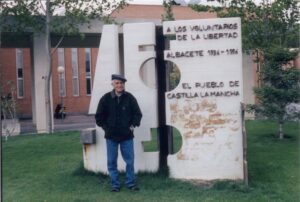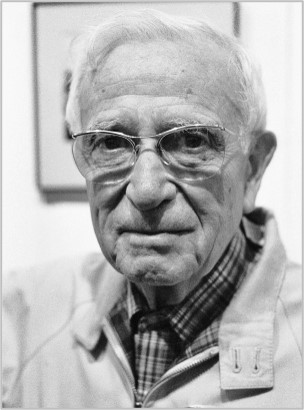 c