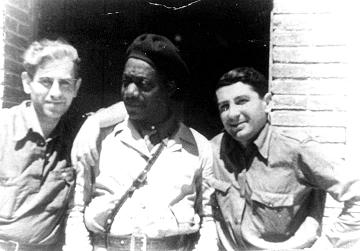 Biography
Haywood, Harry
(Hall, Haywood [birth name]); b. February 4 (6), 1898, South Omaha, Nebraska; African American; father Haywood Hall (1861-?), mother Hattie Hall (1865-?), brother Otto Hall (1891-?), sister Eppa Hall (1896-?); High School education, Attended Eastern University and Lenin School in Soviet Union 4.5 years; Prior military service during WWI 1917-19, US Army, 8th Illinois Regiment, Illinois National Guard, Federalized for Service in France, Rank Corporal; Divorce (Maria Bledsoe); Party Functionary; YCL 1922 and CP 1925, was an alternate member of the Central Committee of the American CP 1933-37; Sailed March 31, 1937 aboard the
Aquitani
a; Arrived in Spain on April 20, 1937; Albacete, EM; Served with the XV BDE, as Regimental Commissar during Brunete; Later on Brigade Staff; Returned to the US on October 12, 1937 aboard the
Ile de France
; WWII Merchant Marine; d. January 4, 1985, NYC; Haywood was the highest ranking member of the American CP to serve in Spain.
---
Sources: RGASPI Fond 545, Opis 6, Delo 907, ll. 53-57; Harry Haywood, Black Bolshevik, African Americans; L-W Tree Ancestry. Code A
---
Photograph: Bill Lawrence, Harry Haywood and Ed Bender. Photograph courtesy Peter Carroll.