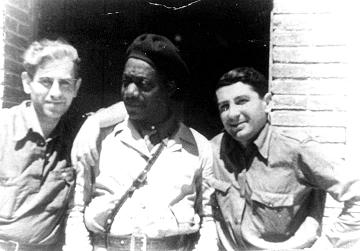 Biography
Haywood, Harry
(Hall, Haywood [birth name]); b. February 4 (6), 1898, South Omaha, Nebraska; African American; Father Haywood Hall (1861-?), mother Hattie Hall (1865-?); High School education; Attended Eastern University and Lenin School in Soviet Union, 4.5 years; Prior military service during WWI, 1917-19, US Army, 8th Illinois Regiment, Illinois National Guard, Service in France, Rank Corporal; Divorced (Maria Bledsoe); Party Functionary; YCL 1922 and CP 1925, was an alternate member of the Central Committee of the American CP 1933-37; Sailed March 31, 1937, aboard the
Aquitani
a; Arrived in Spain on April 20, 1937; Albacete, EM; Served with the XV BDE, as Regimental Commissar during Brunete; Later on Brigade Staff; Returned to the US on October 12, 1937, aboard the
Ile de France
; WWII Merchant Marine; d. January 4, 1985, NYC; Haywood was the highest-ranking member of the American CP to serve in Spain.
---
Siblings: brother Otto Hall (1891-?) and sister Eppa Hall (1896-?
---
Sources: RGASPI Fond 545, Opis 6, Delo 907, ll. 53-57; Harry Haywood, Black Bolshevik, African Americans; L-W Tree Ancestry. Code A
---
Biography:  Harry Haywood was born Haywood Hall in South Omaha, Nebraska, on February 4, 1898, the youngest of three sons of Haywood and Harriet Hall. Both parents were born as slaves, the father in West Tennessee and the mother in Missouri. In 1913, after a white gang assaulted Haywood's father, the family moved to Minneapolis and two years later to Chicago where Harry worked as a waiter. In 1917 Haywood joined the Illinois National Guard and served in the all-black 8th Guard Regiment. Shortly thereafter, the regiment was federalized for service in World War I and shipped to France in April 1918. Near the end of the war Harry fell ill, and his return to the United States was delayed by hospitalization. He was finally discharged on April 29, 1919. He returned to Chicago in time to participate in the racial violence that summer. Harry resumed worked as a waiter and in 1920 married his first wife Hazel. They parted later the same year. Haywood's older brother, Otto Hall, was an early member of the U.S. Communist party, which he joined shortly after its formation in 1921. One year later, at his brother's urging, Harry Haywood joined the African Blood Brotherhood (a secret organization that included many important black members of the Communist party) and six months later became a member of the Young Communist League. He joined the Communist party in the spring of 1925. Shortly thereafter Haywood was selected to study in the Soviet Union where he spent four and a half years attending the Lenin School and the Eastern University. He also briefly worked for the Communist International. Following the Sixth World Congress of the Comintern in 1928, Haywood became one the strongest proponents of the Party view that African Americans in the Deep South constituted an oppressed people and were entitled to "self-determination." Following his return to the United States, Haywood became a full time Communist functionary and moved quickly up the ranks of the party. In 1931, he was appointed to the Central Committee and made head of the Party's National Negro Department. Three years later he was placed on the Party's Politburo. On March 31, 1937, Haywood sailed for France aboard the Aquitania. In Spain, Haywood served as the assistant Regimental Commissar with the rank of Captain. Following a dispute with other members of the leadership, Haywood was ordered back to the United States in the fall of 1937. In May 1938, Haywood was removed from the politburo of the Communist party. In October 1939, Haywood suffered a heart attack. Since his ailment was found to be related to his service in World War I, Haywood received a veteran's disability pension and was exempted from service in World War II. While recovering from the heart attack, Haywood moved to Los Angeles. There he married Belle Lewis, whom he had known from union activities in the early 1930s. He continued to be active in the Communist party at the local level. In June 1943 Haywood joined the Merchant Marines where he remained until after the end of World War II, when he and Belle moved to New York. In 1948 Haywood published his first book Negro Liberation. In 1955, Haywood divorced Belle Lewis and married Gwen Midlo. Throughout the late 1950s Haywood was embroiled in the Communist Party's internal conflicts. At one point he was involved (along with fellow Lincoln Brigade veteran Admiral Kilpatrick) in the short-lived Provisional Organizing Committee for a Communist Party (POC), a black and Latino-led attempt to found a new left-wing party. Haywood was expelled from the Communist Party in 1959. Prior to his expulsion, Haywood moved with his family to Mexico City where they remained until 1970 when he returned to the United States. In 1978, he published his autobiography, Black Bolshevik. Haywood died on January 4, 1985. ~ Chris Brooks
---
Photograph: Bill Lawrence, Harry Haywood and Ed Bender. Photograph courtesy Peter Carroll.