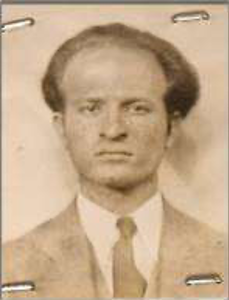 Biography
Mensh, Harry. b. West Virginia; 29 years old; Graduated from the University of Florida in Gainsville, Graduate work at John Hopkins University; No prior military experience; Party functionary; CP 1933; Served in Transport, Driver; Repatriated medical; After returning from Spain he worked as an instructor at Commonwealth College in Mena, Arkansas as an economics teacher; WWII Civilian (?) or Armed Forces (?); d. January 22, 2002; Co-Author with wife of The I. Q. Mythology: Class, Race and Inequality & Black, White and Huckleberry Finn: Re-Imagining the American Dream.
---
Sources: RGASPI Fond 545, Opis 6, Delo 849, ll 24, List of American Comrades that have been Repatriated as per October 15 1937; Opis 6, Delo 946, ll. 55-58; (obituary) The Volunteer, Volume 24, No. 2, p. 22; "Mensh Joins Faculty," The Commoner, v. 1, no. 5, October 1938, p. 4; L-W Tree Ancestry. Code A
---
Photograph: Harry Mensh from his 1931 application for a Seaman's Protection Certificate; L-W Tree Ancestry.