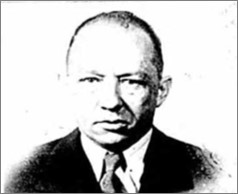 Biography
Berthold, Heinrich (Berthold, Henry); b. March 17, 1896, Schawlefeld (Usseln, Hessen), Germany; German American; Father Heinrich Karl Christian Berthold (1853-1914), mother Margarethe Johanethe Zimmermann (1854-1927); 5 years prior military service; Single; Mechanic; CP 1931 (1932); Sailed February 17, 1937 aboard the President Roosevelt; Arrived in Spain on March 17, 1937; Served with the Auto Park; Returned to the US on September 4, 1938 through Quebec, Canada aboard the Aulania; crossed into the US at St. Albins, Vermont by rail; d. December 31, 1953, Chicago, Cook County, Illinois.
---
Source: Cadre; Americans; RGASPI; L-W Tree Ancestry.
---
Photograph: Henry Berthold, Declaration of Intent, 1938.