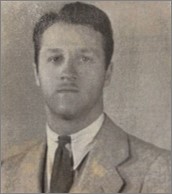 Biography
k-Parrotte, Henry John b. November 15, 1910, Great Falls, Cascade, Montana; Anglo-American; Father James Earnest Parrotte (1866-1934), mother Grace Olive Buckingham (1878-1929); Graduated from Great Falls High School in 1929 and attended Great Falls Commercial College; Single; Stenographer, Clerk; CP November 8, 1932, section organizer; Received Passport#30820, San Francisco series, on July 31, 1937 which listed his address as Cascade, Montana; Sailed August 21, 1937 aboard the Britannic; Arrived in Spain on September 2, 1937; Served with the XV BDE, Lincoln-Washington BN; Rank Soldado; Reported KIA March 10, 1938, Belchite, during the Retreats; Veteran Bob Thwing of Murdo, South Dakota wrote in a newspaper article confirming Parrotte's death; Traveled to Spain with Clifford Haley and Roy Molten (Moulton?).
---
Siblings: sisters Alice Parrotte Tintinger (1909-1990), and Violet Harriet Maude Parrotte Wadsworth (1912-1975).
---
Sources: BN 58 Retreats; Cadre; Figueres List; RGASPI; Pacific NW; Find-A-Grave #191631873; "Definite Proof is Received of Falls Man's Death in Spain" The Great Falls Tribune," February 3, 1939. Code A
---
Photograph: Henry John Parrotte, Passport Photograph, 1937.