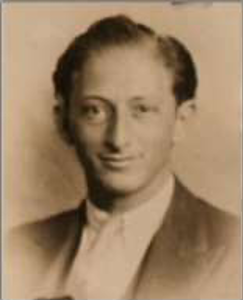 Biography
Schutz, Herbert Lawrence. November 13, 1908 Chicago, Illinois; Single; Father Morris Bernard Schutz (1870-?), mother Gertrude R. Schaffner (1878-1937); Seaman; Domicile San Francisco, California; Sailed to Europe aboard the Antonia arrived in England on February 22, 1938; Arrived in Spain via Espolla on February 28, 1938; Served with the XV Brigade, Lincoln-Washington Battalion; Rank Soldado; Serve at the Ebro Offensive; Deserted, Arrived in Marseille, France on October 1, 1938; Likely returned as a workaway; Married Lyla Florence Cameron (1913-?) an Australian in Victoria, Australia in 1939; d. June 19, 1976, Oakland, Alameda, California.
---
Siblings: brother Myron L. Schutz, sister Estelle F. Schutz, half siblings Philip Schutz, and Lorn Pearl.
---
Sources: Figueres List; Pay; USSDA 2:0908, 59:0877, L-W Tree Ancestry
---
Photograph: Herbert Schutz from Seamans Protection Certificate application, 1936, L-W Tree Ancestry.