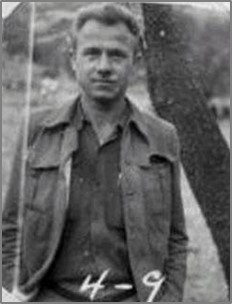 Biography
Bottcher, Herman (Bottcher, Herman John Frederick), b. July 13, 1907 (1909), Landsberg, Germany; German American; Volunteer for the Debs Column; Attended San Francisco State College; Unspecified prior military experience; Single; Student, Mechanic, and Carpenter (cabinet maker); CP 1932 (Americans states AF); Domicile San Francisco, California; Sailed February 1937 aboard the Manhattan; Arrived in Spain on March 4 (10), 1937; Served with the XV BDE, Auto Park; Later transferred to the Lincoln-Washington BN, Transmissiones; Rank Cabo; Returned to the US on March 13, 1939 aboard the President Harding; WWII US Army, 32nd Infantry Division, fought in New Guinea and Leyte Campaigns; Received a battlefield promotion and two Distinguished Service Cross for his actions in 1942 and on the island of Buna in 1944; Wounded in action on Buna; He returned to duty during the Leyte Campaign; He was killed in action December 31, 1944, Manila, Philippines; Buried in the Manila American Cemetery, Plot L, Row 4, Grave 134; Spoke English, German and French.
---
Source: Americans; Inventory North Americans; Pay; RGASPI; USSDA; Find-a-Grave#56754519; Herman Johann Friedrich Bottcher http://hermannbottcher.org/
---
Biography Major Herman J. F. Bottcher was a German national who achieved the rank of Major (United States) with two different armies: the International Brigade during the Spanish Civil War and the United States Army during World War II. He was awarded two U.S. Distinguished Service Crosses, the second highest U.S. military decoration after the Medal of Honor. Because the International Brigade was a nominally Communist organization, the United States Government denied him American citizenship for many years. Bottcher however, joined the United States Army and distinguished himself in combat during World War II. He was granted his U.S. citizenship days before he was mortally wounded. Herman Bottcher was born in Landsberg, Germany and was a witness to the events surrounding his country during World War I. He trained as a cabinetmaker and in 1928, left Germany for Austria. In 1931, Bottcher emigrated to the United States and lived in San Francisco. During the Great Depression, Bottcher who was a student at San Francisco State College and applied for American Citizenship in 1935. In 1936, Bottcher dropped his college studies and joined the Abraham Lincoln International Brigade,[2] which fought against Spanish General Francisco Franco, a fascist who revolted against the Spanish government (also known as Spanish loyalists) in what is known as the Spanish Civil War. Franco was an ally of Germany's Adolf Hitler and Italy's Benito Mussolini. Bottcher was assigned with the rank of Captain to the Abraham Lincoln Brigade and during the 35 months that he served he was wounded twice, once in the Battle of Madrid and once at Aragon. Spanish prime minister Juan Negrín ordered the withdrawal of the International Brigades and on September 24, 1938, the Abraham Lincoln Brigade was replaced by Spanish loyalist troops. Bottcher, who was then a Major (United States) with three Spanish military decorations which included the Spanish Medal of Valour, and the rest of the men of the Brigade were sent home. Bottcher, returned home to San Francisco and continued his college education in architecture. Bottcher's citizenship request was denied by the United States government because of his involvement in the Spanish Civil War. Bottcher enlisted in the United States Army at the Presidio on January 5, 1942, just one month after the Empire of Japan attacked Pearl Harbor in December 7, 1941. He was assigned to the 32nd Infantry Division a Michigan-Wisconsin National Guard Unit. The 32nd Division was sent to the South West Pacific Theater. Bottcher's unit was sent to New Guinea in late 1942, as part of a US-Australian offensive against Japanese forces who had built extensive defenses around beachheads in the Buna area. On November 16, 1942, Australian and US forces began to attack Buna, Sanananda and Gona. Bottcher was promoted to Staff Sergeant, and was appointed a platoon commander in G Company of the 126th Infantry Regiment. On December 5, 1942, when G Company was pinned down by enemy fire, Bottcher led a 31-strong detachment forward against the attacking force. Wading across a creek under constant mortar fire, Bottcher led twelve volunteers through to the Buna beach. He stood up and threw hand grenades at the enemy knocking out several pillboxes en route and was able to drive a wedge between Buna beach and Buna village. Bottcher, one eardrum broken by mortar blast, his hand cut by shrapnel, held that wedge. Bottcher ordered his men to dig in at once on the edge of the beach, which became known as "Bottchers Corner". He and his men fought against enemy attacks from both the village and the fortified beach which resulted in the death of over a hundred enemy soldiers. Bottcher's break-through completed the isolation of Buna village and is considered to be a turning point of the battle.  According to a Time magazine article, by Australian war correspondent George Johnston, published September 20, 1943: "The American, Herman Bottcher, led twelve volunteers into the Japanese positions, built fortifications on the beach. Constantly under fire, Bottcher provided a diversion that resulted in Allied victory. By a conservative count ... Bottcher and his twelve men ... killed more than 120 Japs." Bottcher was awarded the battlefield commission of Captain and his first Distinguished Service Cross Medal. On December 20, Bottcher led a detachment of his men in an attack and that was within 20 yards of the enemy, when he stood up to draw the enemy fire upon himself so that his men could move forward. He was wounded twice and awarded a second Distinguished Service Cross Medal for his actions. He was sent to Australia, for treatment to his three wounds. Bottcher, returned to his unit following the Battle of the Philippine Sea in June 1944, with the rank of Major (United States). There he received the news that the US Government, by a special act of Congress, had granted him U.S. Citizenship. Bottcher's men had spent 43 days behind enemy lines during the Battle of Leyte when, on December 30, 1944, a group of Japanese soldiers encountered Bottcher's men and attacked them with small arms fire and mortar rounds, one of which fell directly into Bottcher's position. The next day, Bottcher's men sent the following radio message: "Bottcher dead. Recon troop withdrawing west..." Captain (later Major) Dick Tucker, sent the following message to the news wires: "Major Herman Bottcher, veteran soldier in the fight against Fascism, hero of the battle of Buna and reconnaissance-troop commander, whose exploits had become legend among the men who were fighting the Pacific war, lay dead on a hill overlooking Silad Bay." Bottcher is buried in the Manila American Cemetery, Manila in Plot L Row 4 Grave 134. There is a memorial plaque at Buna today which is dedicated to Bottcher's role in the battle. -  Courtesy of Wikipedia.
---
Photograph: Herman Bottcher in Spain. RA Fond 545, Opis 6, Delo 866