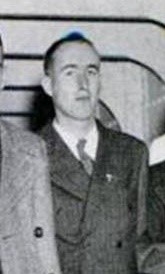 Biography
Chase, Homer Bates
b. January 29, 1917, Washington, New Hampshire; POW; Single; Laborer; CP 1934; Received Passport# 4085, Boston series, on February 24, 1937 which listed his address as New Hampshire; and 15 Aberdeen Street, Boston, Massachusetts; Sailed March 10, 1937 aboard the
Washington
; Arrived in Spain on April 2, 1937; Served with the XV BDE, British BN at Jarama; Transferred to the Lincoln BN just prior to Brunete; however, he missed the campaign due to a serious arm infection; Returned to the BDE after Brunete; Lincoln-Washington BN; Rank Soldado; Reported MIA Retreats; Captured at Belchite between March 10-17, 1938, during the Retreats; Exchanged October 8, 1938; Returned to the US on October 18, 1938 aboard the
Queen Mary
; WWII US Army, Paratrooper, SGT, European Theater of Operations; Combat jumps near Wesel and the Bulge; Head of the Georgia Communist Party during 1950s; d. August 29, 1985, Hingham, Massachusetts; Spoke English and French.
---
Source:
Sail; Scope of Soviet Activity; Cadre; Americans; BN 58 Retreats; USSDA 2:0447, 53:0322; POW; (obituary) "Homer Bates Chase is Dead," New York Times, date. Code A
---
Photographs:
Homer Chase from a photograph of returning POWs aboard the Queen Mary, October 8, 1938; and detail from a Getty photograph taken when he was released from jail.
---