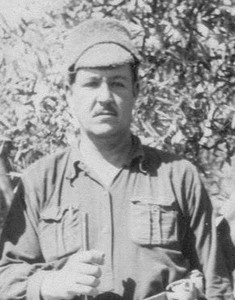 Biography
k-Mervelo Bastarrain, Homero
(Meruelos; Homer); Cuban; Father Faustino Mervelo and mother Coralia Beldarrain; University of Havana; Married wife Hortensia Leon Figueredo, son Homero Meruelo (b. November 29, 1934); Engineer; Killed in action October 14, 1937, Fuentes de Ebro.
---
Siblings:
brothers Ronald Mervelo, Otton Mervelo and Horacio Mervelo.
---
Sources:
Americans and Canadians Killed in Spain Complete list to November 15, 1937; RGASPI Fond 545, Opis 3, Delo 431, ll. 163 indicates killed on Oct 23., 1937.
---
Photographs:
  (l-r) Ayelo, Mervelo and Sanchez 177_191111
---