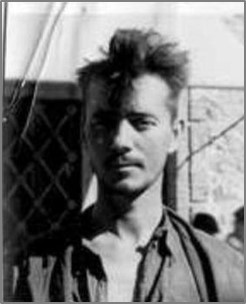 Biography
(Howard Henderson Faubion); b. February 17, 1907 Lawrence County, Indiana; Father Lewis Cavers Faubion (1868-1948), mother Rebecca Jane Faubion (1869-1940); High School education; Single; Painter and Paperhanger; CP 1931 (1932); Received Passport# 422960 on May 24, 1937 which listed his address as 1955 Burnside, Detroit, Michigan; Arrived in Spain via Massanet on June 13, 1937; Served with the XV BDE, Mackenzie-Papineau BN; Later with Co. 1, Special MG BN; Returned to the US on January 20, 1939 aboard the Aquitania; WWII, Enlisted in the Army on April 17, 1941, served with the 125th Infantry, Co. 4, Private; Discharged on May 30, 1942 due to a disability; d. January 4, 1963, Bay Pines, Florida, buried in Ruskin Memorial Park, Ruskin, Hillsborough County, Florida.
---
Siblings: brothers Arnold Faubion (1905-?), John Faubion (1911-1942), sisters Arta Faubion (1895-1916); Nannie "Nina" (Faubion) Ward (1901-?), Edna R. (Faubion) Greenleaf (1903-1991), half-sisters Elma (Faubion) Pickerel (1892-?), and Nola (Faubion) Kindred (1893-?).
---
Sources: Scope of Soviet Activity; Cadre; Figueres List; Mac-Paps; RGASPI; L-W Tree Ancestry, The Volunteer, v9, n5, p2; L-W Tree Ancestry; Find-a-Grave# 22699272.  Code A
---
Photograph: Howard Fabian in Spain, RGASPI Fond 545, Opis 6, Delo 887.