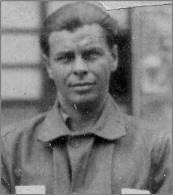 Biography
Johnson, Howard Marion (Marvin); b. March 27, 1908 (May 27, 1908), Winchester, Wisconsin; Father Elmer B. Johnson (1878-?), mother Mabel H. Everson (1888-?); Three years High School; Married; Driver, was working for the WPA; CP 1936, Workers Alliance; Received Passport# 355480 on February 4, 1937 which listed his address as 832 9th Avenue, South Minneapolis, Minnesota; Sailed February 10, 1937 aboard the Washington; Arrived in Spain on February 24, 1937; Served with the 86th BDE, 20th BN, from April 1 to July 4, 1937 on the Cordoba Front; Sent to Orihuela Hospital due to bronchitis; Transferred to Intendencia in Albacete, August 1, 1937 and also worked at Camp Lukacs; Transferred to Tarazona on November 19, 1937 then to Brigade Auto Park on November 21, 1937; Continued to suffer from poor health; Returned to the US on November 5, 1938 aboard the President Roosevelt.; d. July 27, 1965, Rice Lake, Wisconsin, buried in Nora Cemetery, in Rice Lake.
---
Source: Sail; Scope of Soviet Activity; Cadre; RGASPI Fond 545, Opis 6, Delo 917, ll. 74-83 (74a is his Spanish CP Carnet); L-W Tree Ancestry; Find-a-Grave #122508043. Code A
---
Photograph: Howard Johnson in Spain, RGASPI Fond 545, opis 6, Delo 917; ll. 74a.