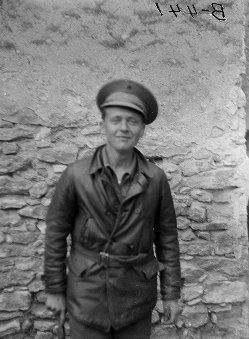 Biography
Goddard, Howard Owen
(Duncan, Howard); b. December 19, 1911 Harrodsburg, Kentucky; Single; Chemist; CP September 1936, section comm.; Received Passport# 25187, San Francisco series, on March 3, 1937 which listed his address as 1016 South Vermont Avenue, Los Angeles, California; Sailed March 24, 1937 aboard the
Manhattan
; Arrived in Spain on April 14, 1937; Served with the XV BDE, Lincoln-Washington BN, Adjutant Commander promoted to Commander of the 2nd (Spanish) Co.; WIA Belchite; Last unit BDE, Estado Mayor, Staff Officer; Returned to the US on December 15, 1938 aboard the
Paris
; d. January 12, 1997.
---
Sources:
Sail; Scope of Soviet Activity; Cadre; Pay; RGASPI; ALBA 126 Howard Goddard Papers; Good Fight C; L-W Tree Ancestry. Code A
---
Biography:
Howard Goddard (1911-1997) was born in Harrodsburg, Kentucky. The family moved to Southern California in 1921 and he took his first job when he turned 13. After graduating from high school he worked in Trona, California for a chemical mining company. His experience organizing and fighting for union rights in this company town (which involves one of the first landmark cases successfully argued before the National Labor Relations Board) solidified his belief in the workers' cause and the international fight against fascism. Arriving in Spain in March 1937 via the Pyrenees, Goddard was assigned to a Spanish-speaking company in the International Brigades. After recovering from wounds at Belchite and helping to plan the Battle of Ebro, Goddard was promoted to Captain of his company in October of 1938. Goddard returned from Spain in late 1938 and continued to work and organize unions from Denver to Los Angeles, representing the International Union of Mine, Mill and Smelter Workers for most of his career. He married and had two children. He was an active member of the Veterans of the Abraham Lincoln Brigade and at the time of his death was living in San Francisco. ~Courtesy Tammiment, NYU.
---
Howard Goddard Interview
, ALBA V 48-010, June 10, 1985, Manny Harriman Video Oral History Collection; ALBA VIDEO 048; Box 1, Folder 23, Tamiment Library/Robert F. Wagner Labor Archives, New York University.
---
Photograph: Lieutenant Howard Goddard, May 1938. The 15th International Brigade Photographic Unit Photograph Collection; ALBA Photo 11; ALBA Photo number 11-0187. Tamiment Library/Robert F. Wagner Labor Archives. Elmer Holmes Bobst Library, 70 Washington Square South, New York, NY 10012, New York University Libraries.