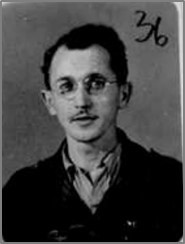 Biography
Heurich, Hugo
(Meyer, Karl party name); b. January 31, 1908, Holzhausen, near Hassfurt, Germany; to the US in March 1929 at age 21, settled in Fort Wayne, Indiana, Naturalized March 1934 by the District Court of Indianapolis, Indiana; AMB; father Eduard Heurich, mother Babara Hannick?; Kaufmännische Lehre (business school) in Germany; No prior military service; Single; Apprentice in a hardware store in Germany, Automobile worker and Driver; CP 1934, AFL, Arbeiterbildungsgruppe (the Workingman's Educational Group); Received Passport# 367228 on February 15, 1937 which listed his address as 3751 Van Dyke, and 5780 Fisher Avenue, both Detroit, Michigan; Sailed March 10, 1937 aboard the 
Washington
; Crossed over the Pyrenees by foot; Arrived in Spain on March 21, 1937; Served with the Intendencia in Albecete, then to Almeria where he survived the bombardment of the town, and Almansa; May 1937 transferred to Medical Services in Albacete and sent as a driver to Murcia supporting LaPassionaria, the Secoro Rojo and the Universidad hospitals; In July contracted Typhus and was in hospital for 4 months initially at Secoro Rojo for treatment then to Denia for recovery and later light duty in Benicassim as a driver; In Early 1938 transferred to the hospital in Mataro; Assisted with the transfer of patients north after the Retreats in April 1938 was aboard a hospital train that was strafed as it left Valencia in the early evening; Continued on to Barcelona with Herman Pico ending up in Barcelona; Reassigned as a driver in Barcelona; Returned to the US on December 15, 1938 aboard the 
Paris
; Married Elizabeth "Betty" Eckhard March 9, 1940 in Detroit, Michigan; WW II civilian employed as a tool grinder for Super Tool Compay; d. March 10, 1982, Howell, Livingston, Michigan.
---
Sibling: 
Ernst Heurich, and others who remained in Germany.
---
Sources:
Sail; Scope of Soviet Activity; RGASPI Fond 545, Opis 6, Delo 909, ll. 36-44; Interview conducted by Dr. Bert P. Riesterer, Indiana-Purdue University, between October 11 and October 15, 1980, in Indianapolis, Indiana, edited by Armin Heurich and bound under the title 
These are my convictions Hugo Heurich recalls his experiences as a member of the Abraham Lincoln Brigade in the Spanish Civil War
; L-W Tree, Ancestry.com.  Code A
---
Photograph:
Hugo Heurich in Spain, RGASPI Fond 545, Opis 6, Delo 909, ll. 36; and with his wife Betty circa 1980.