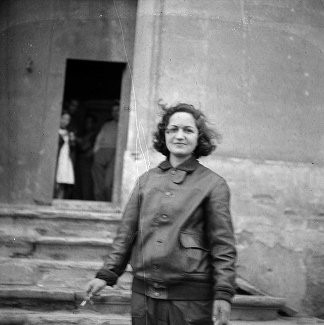 Biography
Goldin, Irene
(Goldin, Mabel Irene) b. January 2, 1910, New York; Jewish; AMB, Single, Married in Spain, Married a wounded Austrian IB Volunteer whom she met in Mataro, Married name Spiegel; Nurse; CP October 1937, Received Passport# 414735 on May 17, 1937 which listed her address as 230 West 99th Street, NYC, Arrived in Spain on May 27, 1937; Served with the Medical Services, English Hospital at S'Aguarro; After leaving Spain Goldin and her husband remained in Marseilles, France awaiting a visa for her husband; Goldin and her husband were unable to leave when WWII broke out and spent the war in France; They joined the underground in 1943; After WWII they moved to Vienna, Austria; d. January 15, 2004, Vienna, Austria.
---
Sources:
Scope of Soviet Activity; RGASPI; (obituary) Julia Newman, "Irene Goldin Speigel, 1910-2004,"
The Volunteer
, Volume 26, No. 1, March 2004, p. 21. Code A
---
Photographs:
Nurse Irene Goldin, October 1937. The 15th International Brigade Photographic Unit Photograph Collection ; ALBA Photo11; ALBA Photo number 11-0841. Tamiment Library/Robert F. Wagner Labor Archives. Elmer Holmes Bobst Library, 70 Washington Square South, New York, NY 10012, New York University Libraries.; and two from RGASPI Fond 545, Opis 6, Delo 899.
---