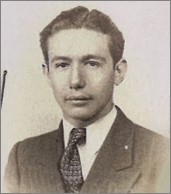 Biography
k-Fishgold, Irving b. August 26, 1916, Brooklyn, Kings County, New York; Jewish; Father Samuel "Max" Fishgold (1882-?); Russia to US in 1906, naturalized, Mother Riesel "Rose" Smolar (Cutler) 1881-1953; High School education; Single; Cafeteria Worker and Counter Worker; CP 1936; Received Passport# 498846 on February 18, 1937 which listed his address as 1514 West 8th Street, Brooklyn, New York; Sailed on the Manhattan, arriving in Havre, France on March 2, 1938; Arrived in Spain via Massanet on March 8, 1938; Sent to Transmissions school for IB; Served with the XB BDE, Lincoln-Washington BN, Co. 3; Rank Soldado; KIA July 27, 1938, Ebro Offensive.
---
Sources: Scope of Soviet Activity; Figueres List; Pay; RGASPI; USSDA 2:0538, 54:0187; ALBA 41 Irving Fishgold Papers; L-W Tree Ancestry.
---
Biography: Isidore (Irving) Fishgold (1918-1938) was born in Brooklyn to parents who already had six children from earlier marriages. Irving spent much of his childhood alone with his mother, who separated from her husband, leaving the older children with him. From the age of fifteen Irving began to visit with his father and stepbrothers and sisters, with whom he became quite close. He graduated from high school and worked at various odd jobs, while becoming deeply involved in radical politics. He soon joined the Young Communist League. When he volunteered for service with the International Brigades in Spain he reportedly dissuaded one of his brothers from doing the same, arguing that it was necessary to stay at home and work to help support the family. Irving sailed from New York, according to his sister Betty's account, on February 23, 1938 and was killed in an ambush at Gandesa in July 1938. - Courtesy Tamiment Library, NYU.
---
Photograph: Irving Fishgold, Passport Photograph, 1937.