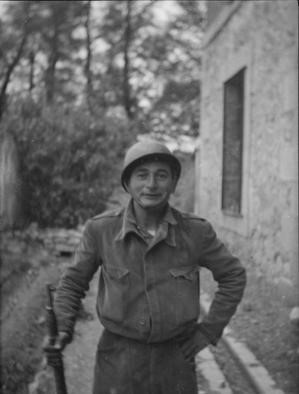 Biography
Barcena, Isadore Frank (Burcena, I. F.; Barcenda; Burcena, Sandro, Isidro), b. August 11, 1895, Brooklyn, New York; Spanish American; Prior military service in the US Army during WWI; Single; Tobacco Worker and Cigar Maker; CP of Canada January 29, 1937; Received Passport# 387181 on April 9, 1937 which listed his address as Palmetto Street, and 480 Otica Avenue, both Brooklyn, New York, though he actually lived in Toronto, Canada; Arrived in Spain on May 1, 1937; Served with the XV BDE, Transmissiones; Rank Teniente; WIA Teruel; Served at Brunete, Aragon, and Teruel; Returned to the US on February 4, 1938 aboard the President Harding; WWII US Army, Member of the Mac-Pap Association in Toronto (1985); d. December 20, 1985, buried Garden of Memories Cemetery, Tampa, Hillsborough County, Florida.
---
Source: Scope of Soviet Activity; Cadre; Inventory North Americans; XB BDE; RGASPI Fond 545, Opis 6, Delo 542; Canadian; Reterrar; Find-a-Grave# 64388189(under Isidro F. Barcena). Code A
---
Photograph: Pat Barcena, Transmiciones, November 1937. The 15th International Brigade Photographic Unit Photograph Collection; ALBA Photo 11; ALBA Photo number 11-0001. Tamiment Library/Robert F. Wagner Labor Archives. Elmer Holmes Bobst Library, 70 Washington Square South, New York, NY 10012, New York University Libraries.