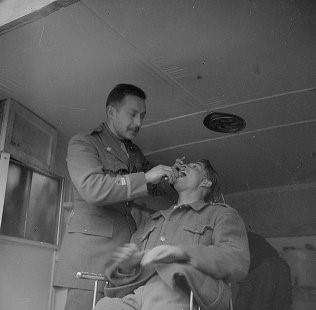 Biography
Klein, Jack B.
(Klein, Jacob); b. November 22, 1903 (1904), Yekaterinoslav, Russia; Russian American; AMB; Attended West Virginia University, pre-med, in 1923-25, then graduated from the College of Dental and Oral Surgery in 1929; Single (Married Jesephine Leibert, a radiologist in Vich, France, later divorced, see bio for Preston Hill); Dentist; CP; Received Passport# 337548 (367548) on February 16, 1937 which list his address as 1402 Eastern Parkway, Brooklyn, New York, and NYC; Arrived in Spain April 8, 1937; Served with the Republican Medical Services; Returned to the US on October 25, 1938 aboard the
Ile de France
; WWII attempted to volunteer but was declared over age; d. June 17, 1989, Miami, Florida.
---
Source:
Scope of Soviet Activity (under Klein); RGASPI; L-W Tree Ancestry.
---
An American Dentist In Spain ~ Jack Klein by M. M.
,
The Volunteer
, Volume 2, January 15, 1938, reprinted
The Volunteer Blog
, posted June 11, 2018.
---
Photograph:
 Dental Wagon at work, "Doc" Jack Klien, February 1938. The 15th International Brigade Photographic Unit Photograph Collection ; ALBA Photo 11; ALBA Photo number 11-0865. Tamiment Library/Robert F. Wagner Labor Archives. Elmer Holmes Bobst Library, 70 Washington Square South, New York, NY 10012, New York University Libraries.