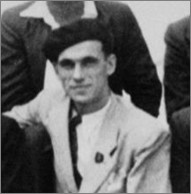 Biography
Bergen, Jacob 37 (32, 33) years old; Naturalized through father's papers Brooklyn, New York, 1917; Married; Teacher; CP 1934; Received Passport# 455799 in July 1937 which listed his address as 161 West 16th Street, NYC; Sailed July 7, 1937 aboard the President Roosevelt; Arrived in Spain via Espolla on July 24, 1937; Served with the XV BDE, Lincoln-Washington BN; Returned to the US on July 20, 1938 aboard the Champlain.
---
Source: Sail; Scope of Soviet Activity; Cadre; Figueres List; Inventory North Americans; XB BDE; L-W Tree Ancestry. Code A1
---
Photograph: Jacob Bergen, from a group photograph taken aboard the returning Champlain.