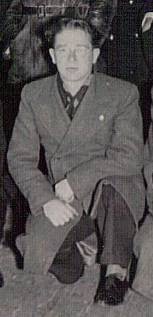 Biography
Hartzman, Jacob
(Krone, Jacob); b. September 19, 1907, Russia, to the US in 1910; Russian American; Father Nathan Hartzman; Two years of high school, later took exams at the University of Illinois to received a graduation equivalent of a high school diploma; Single; Clerk and Driver; CP 1935, unit organizer, active in the American League Against War and Fascism and the Unemployment Councils; Domicile 3256 Beach Avenue, Chicago, Illinois; Sailed March 18, 1937 aboard the
Normandie
; Arrived in Spain on April 1, 1937; Served as for a month in the Albacete Auto Park as a driver then transferred on May 1, 1937 to Murcia as an ambulance and truck driver; In September 1937 he transferred to Benicasim in the same role; In January 1938 he was assigned to the 45th Division as an ambulance driver; Returned to the US on December 15, 1938 aboard the
Paris
; WWII, rejected for enlistment due to scar tissue on his lungs. After his draft board changed his rating to a 4-F classification he was able to find work as a Machinist in war industry; Met May Levine, a nurse, in Spain and married her in 1946; In 1957 the family moved to Los Angeles, California and he remained active in his labor union and other progressive activities; d. December 17, 1995, Van Nuys, California, Congestive Heart Failure.
---
Siblings: Brother Harry Hartzman, Sisters Sarah and Mary.
---
Sources: Cadre; RGASPI Fond 545, Opis 6, Delo 906, ll. 87-94; L-W Tree Ancestry.
---
Background
Jacob Hartzman was born in a little town 50 miles from Kiev in 1907. His father, Nathan, went to the US in 1909 to escape serving in the Czarist army. He and his mother came to the US in 1910 and joined his father in Chicago. In Chicago, his brother Harry was born in 1911, his sister Sarah was born in 1912, and his sister Mary was born in 1914.
Jack attended public school and finished the first two years of high school before having to quit to help his father in his business. His father sold bread and rolls. He later was able to pass some exams given by the University of Illinois to get the equivalent of his high school diploma.
In 1929, the Depression made it difficult to find work. He became active with the unemployment councils and the American League Against War and Fascism. In 1936, he learned about the Spanish Civil War. He studied the newspapers and followed closely the development of the war. When he learned that Hitler and Mussolini had sent in armed forces to help the Spanish fascists against the legal government, he became interested in the fight against fascism. He became interested in Spain because of his working class background and his desire to improve conditions for working people. It was natural to participate in demonstrations, May Day activities, and demonstrations for jobs and for housing against landlords evicting unemployed workers. He knew why he was going to Spain. When asked by one of the recruiters or an organization for Spain if it was for the revolutionary movement, Jack said no. A democratic government had pledged to develop jobs and give peasants land to work for themselves. The Civil War was brought on by the Oligarchy.
---
Spanish Civil War
In March 1937, Jack volunteered to go to Spain. He crossed the Pyrenees from France into Spain. At a gathering point, they asked for volunteers who knew how to drive. He volunteered because he knew how and thought it would take him into service quicker. On April 1, he registered with the International Brigades in Albacete and was assigned to transport. He spent a month there assigned to Headquarters. On May 1, he transferred to Murcia. He drove ambulances and supply trucks through September when he was transferred to Benicasim. He was in Benicasim until January 1938. He worked with the Battalions in the 45 th Division as an ambulance driver. These included the Garabaldi, Franco Belge, Polish, and Spanish Battalions. He was not in contact with English-speaking groups. He did not meet the major American groups until he was sent to the evacuation lines. There he met all the Americans who had not been killed or wounded. They stayed there until the first week of December 1938 when the French government gave them permission to go Le Havre to wait for a boat to get back to the US. Jack said that he did what he was told to do in Spain to the best of his ability. He said that he played no heroic part and did not defend any particular position, but he carried out his assignments.
---
After the Civil War
When the Internationals withdrew from Spain, the International Brigades pledged to continue to assist the Spanish people and fight fascism. He helped out with the Spanish Refugee Committee and joined the Veterans of the Abraham Lincoln Brigade. He was active with VALB and participated in demonstrations for assistance for the Spanish refugees. After Spain, Jack returned to Chicago. During WWII, he was rejected for enlistment because he had scar tissue on his lung because he wan not 'fit for service' even though they knew he had been in Spain. Initially he could not get a job because of his 1-A draft classification. Finally his draft board gave him a 4-F classification and he was able to get work as a machinist in the war industry until the end of the war. Jack and his family moved to California in 1957, In Los Angeles, Jack was active in labor union and progressive activities. Jack passed away in December 1995.
---
Photographs: Jacob Hartzman in Spain, RGASPI Fond 545, Opis 6, Delo 906; and returning aboard the Paris; December 1938.
---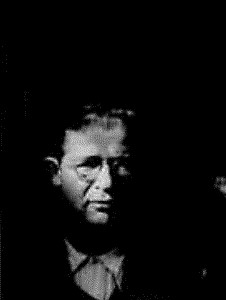 c