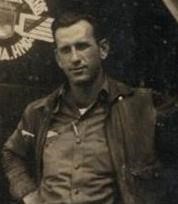 Biography
Allison, James
(Allison, James William Marion; "Tex"); b. October 1, 1905, Houston, Texas; Prior military service as a US Navy pilot; Married; Pilot; No political affiliation; Sailed on board the
Normandie
; Arrived in Spain on December 9, 1936; Served with the Republican Airforce, Pilot, La Calle fighter squadron; WIA; Left Spain in March 1937; Returned to the US on May 13, 1937 aboard the
Europa
; d. March 27, 1946, Lima, Peru of toxemia and heart failure; Buried in Bellavista Cemetery, Lima, Peru, I72, Section 4; He was working for the Faucett Aviation Company at the time of his death.
---
Source:
John Carver Edwards,
Airmen Without Portfolio
, Westport, Connecticut: Praeger, 1997; L-W Tree Ancestry L-W Tree. Code A
---
Photograph:
James William Marion "Tex" Allison, Photograph L-W Tree Ancestry.
---