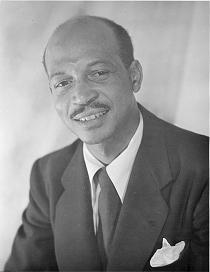 Biography
Rucker, James Bernard. ("Bunny"); b. April 11 (12), 1912, Roanoke, Virginia; African American; High School education; CCC; Single; Driver (unemployed); CP 1935, Section lit agent; Received Passport# 366607 on February 11, 1937 which listed his address as 1617 Columbus, Ohio; Sailed February 17, 1937 aboard the President Harding; Arrived in Spain on March 17, 1937; Served with the 1st Regiment de Tren; Rank Cabo; Returned to the US on October 9, 1938 aboard the President Roosevelt; WWII US Army, 92nd Infantry Division, ETO, WIA; d. February 22, 1992.
---
Sources: Sail; Scope of Soviet Activity; Cadre; RGASPI Fond 545, Opis 6, Delo 567, ll. 11 (fiche); Opis 6, Delo 977, ll. 23-24; ALBA 212 James Bernard Rucker Papers; Michael Nash, "Tamiment Library Acquires Bunny Rucker Papers," The Volunteer, Volume 26, No. 1, March 2004, pp. 10-11; L-W Tree Ancestry.977 Code A
---
Biography:  James Bernard Rucker was born in Roanoke, Virginia, on April 11, 1912 to James Oscar Rucker and Nancy Gabrella Garrett. He was the third child of a family of twelve siblings. Both of his parents attended classes at black colleges, his mother at Tuskegee in Alabama and his father at Harpur in Georgia. In order to escape the virulent racism of the South, the family moved to Columbus, Ohio where Rucker's father found work in a steel mill and served as a minister in the Christian Socialist movement. Upon graduation from high school Rucker joined the Civilian Conservation Corps - one of the New Deal programs of the 1930s -- and traveled to California and Washington State working on forest conservation and road construction projects. With the outbreak of war in Spain, Rucker joined the Abraham Lincoln Brigade (ALB) and sailed for Spain via France on the President Roosevelt in February 1937. Rucker was one of 83 known African-American volunteers who fought in the integrated International Brigades during the Spanish Civil War. He served in the conflict as a driver, transporting supplies behind enemy lines. While in Spain, Rucker met and formed a friendship with Langston Hughes, who was there as a journalist-observer. Following the withdrawal of the International Brigades, Rucker left Spain, crossing the Pyrenees into France and returning to the United States late in 1938. Upon his return to Columbus, Rucker became a founding member of the Vanguard League, an organization dedicated to the integration of movie theaters, community swimming pools, and other public spaces. Reared in a politically engaged family, Rucker was no stranger to activism. During World War I, the senior Rucker was jailed as a conscientious objector. Late in the 1930s, Rucker's brother Oscar ran on the Communist Party ticket in Ohio for Lieutenant Governor and Rucker became an active member in the Party, assisting his brother in his bid for office. He moved to New York, and in February 1942, was induced into the United States Army along with five of his brothers. He was assigned to the segregated 92nd Infantry Division and during his early tour of duty was stationed in the United States at Fort Bragg, NC and later Fort Huachuca, AZ. In May 1943 Rucker wed Helen Mulnick, a German-American who shared his commitment to progressive goals; civil rights leader and Harlem congressman Adam Clayton Powell, Jr. presided over the ceremony. Rucker was stationed in Louisiana until July 1944 when he embarked for Italy on the Algonquin. He initially served in the medical division and later as part of an infantry unit at the Front. He fought in the Rome-Arno, the Northern Apennines, and the Po Valley campaigns. He was wounded in action in April 1945, sustaining serious injuries when shrapnel shattered his thigh leaving bone fragments in his abdomen. He was hospitalized overseas until August of 1945 before being transferred to Halloran Hospital, a V.A. unit on Staten Island, where he remained for an additional two years receiving treatment for his wounds. Rucker was honorably discharged from the Army in August 1947, and awarded three bronze stars and a purple heart. By 1948 he was at work in New York City as an organizer for Henry Wallace, the Progressive Party candidate for president. In 1949 Rucker ran for City Council from the 23rd District on Vito Marcantonio's American Labor Party ticket; also sharing the ticket were Benjamin J. Davis and ALB veteran, Ralph Fasanella. Rucker took advantage of the GI bill and was admitted to Columbia University in 1952 were he gained a BA and a Master's degree in Library Science. He and his wife had one child, Naomi Gabrella, and the family moved to New Jersey where Rucker served as chief librarian for the East Orange Public Library for over 20 years. Rucker died of cancer in a V.A. hospital in East Orange, New Jersey on February 22, 1992. He was 80 years old. - Courtesy of Tamiment Library, NYU.
---
Photograph: James "Bunny" Rucker in the 1950s. Photograph courtesy Rucker family.