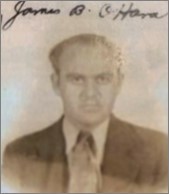 Biography
k-O'Hara, James Burtle (Halperin; Halpern, Ernest; Halpern, Irwin J.; Kaplin, E.); b. March 30, 1902, Tupper Lake, New York; Father Charles John O'Hara; Attend the US Naval Academy at Annapolis; Commissioned as an Ensign on February 1, 1926, US Navy 5 years; Single; Mechanical Engineer and Student; No party affiliation; Received Passport# 28529 San Francisco series, on May 22, 1937 which listed his address as 1149 1st Street, Los Angeles, California; Sailed June 12, 1937 aboard the Georgic; Arrived in Spain via Espolla on June 28, 1937; Served with the XV BDE, Mackenzie-Papineau BN in training; Later appears to have transferred to artillery; Served at Quinto, Belchite, Fuentes de Ebro; WIA at Fuentes de Ebro; Killed in action September 1938, Ebro Offensive, Sierra Caballs; Jailed for drinking February 7 to 20, 1938 Tarazona; Jailed again on March 6, 1938 for 15 days.
---
Sources: Scope of Soviet Activity; Cadre (under Halperin); Figueres List; Mac-Paps; RGASPI Fond 545, Opis 6, Delo 56-58; USSDA 2:0811, 58:0411, (under Halpern, Irwin J.) 2:0626, 55:0498. Code A
---
Photograph: James Burtle O'Hara, Passport Photograph, 1937.