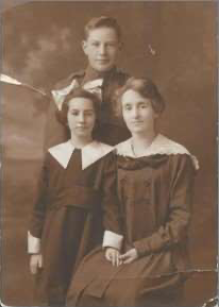 Biography
Hughes, James Edward b. November 18, 1902, Omaha, Nebraska; Father Joseph Hughes (1876-?), mother Catherine Owens (1876-1958); Married Dorthy M. Fastje (1905-?) on August 29, 1925 in Logan, Iowa; Returned to the US on February 16, 1938 by plane (Returned to the US aboard the Lafayette); d. March 4, 1949, Maple Heights, Ohio, buried in Calvary Cemetery, in Cleveland Ohio.
---
Sibling: sister Anna M. Hughes (1905-?).
---
Sources: Ross; L-W Tree Ancestry; Find-a-Grave #178929329. Code A
---
Photograph: James Edward Hughes, with Mother and sister, undated.